Monacan's Megan Walker ends high school career as nation's top player
Fred Jeter | 3/17/2017, 8:35 p.m.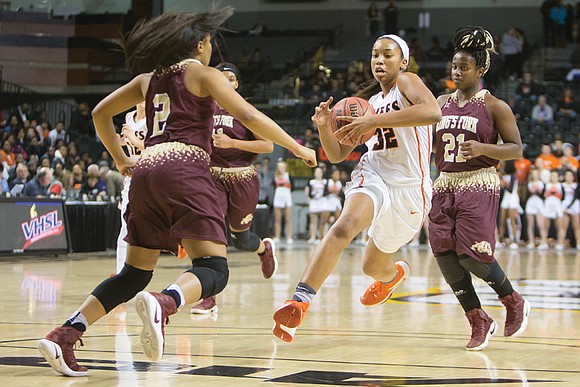 In her final Monacan High School game, Megan Walker showed she was human — but more importantly that she was great.
Now an exclamation point can be placed at the end of the final line of the final chapter of the story of one of the greatest basketball players in Richmond area history.
"Megan is a great, great player and she proved it tonight," Monacan Coach Larry Starr said after the Chiefs' nail-biting 60-59 win over King's Fork High School of Suffolk in the State 4A women's basketball finals last Friday at the Siegel Center. "Megan put us on her shoulders."
Wearing her signature orange fingernail polish and white headband, the 6-foot-1 Walker tallied 35 points, 11 rebounds, six blocked shots and five steals, all with her ponytail flapping.
In a pressure cooker setting, she scored Monacan's final 14 points, including the game winner — a short flip through a windmill of arms with 14 seconds left.
"Teams try to deny Megan, but she's hard to deny," said Coach Starr. "No. 32 (Walker) refused to lose."
Still, the tense crowd of some 5,000 fans saw the human side of the 17-year-old who is headed to college at NCAA juggernaut University of Connecticut.
Uncharacteristically, she was 0 for 3 from behind the arc and just 15 for 24 at the foul line, drawing groans from a partisan crowd. She had three turnovers.
Still, her greatness outshined the flaws by far.
Asked afterward if she could have scripted the events more perfectly, she replied: "You always like to think you can do better, but I've had a crazy tremendous career at Monacan."
Walker has the ranking and honors to show for it. Her laundry list of honors starts with being the nation's No. 1 ranked player by ESPN. She is a three-time State 4A Player of the Year, as well as a three-time 4A East Region and Conference 20 Player of the Year.
Here are some of the Monacan team's numbers:
• The Chiefs' Friday, March 10, win over King's Fork High gives Monacan High three consecutive state titles.
• The Chiefs finished 30-0 this season and 59-1 during the past two seasons combined. The team's record was 104-7 during Walker's four seasons.
• Striking inside, outside and all areas in between, Walker accumulated 2,162 points — 708 points this season alone — despite sitting out many minutes of her team's lopsided victories.
• As an eighth-grader, she led Manchester Middle School to an undefeated season and the Chesterfield County title in 2013, setting the stage for her success at Monacan.
Walker exits as one of the premier players in area annals and almost certainly the most heavily sought.
In assessing "all-time greatness," Walker's only competition might come from Jessie Hicks, the 6-foot-4 Thomas Jefferson High School center who twice earned All-ACC honors at the University of Maryland in the early 1990s.
Hicks was the 12th overall pick in the 1997 WNBA draft four years after she finished at Maryland.
Also mentioned among top players is Chantel Adkins of the Henrico High School Class of 1991, who scored 2,320 points and later starred at Temple University.
Midway during her freshman year at Monacan, Walker drew serious attention from the nation's elite college programs, including the Connecticut Huskies.
It wasn't uncommon to see Huskies Coach Geno Auriemma, among others, on a star search in Chesterfield County.
Walker will be going from one of the most successful high schools program in Virginia to unquestionably the best college program. UConn has won 10 NCAA titles since 2000, including the last four. The Huskies are now on an unfathomable 100-plus game winning streak.
Now get this: There is an opening for an incoming freshman in the UConn lineup. The Huskies' seniors include Saniya Chong, a wing guard (Walker's likely college position) averaging more than 30 minutes per game.
Those having witnessed Walker at Monacan are convinced her greatness will continue in college, with the only difference being she'll change her nail color from Monacan orange to UConn navy blue.