Chesterfield's Megan Walker added to UConn's basketball success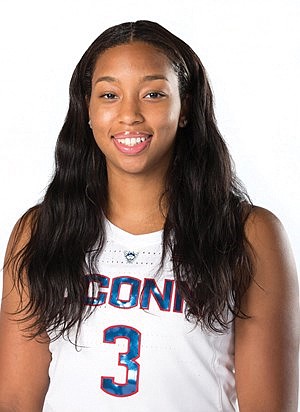 Megan Walker doubled up on success in her sophomore basketball season at the University of Connecticut.
The 6-foot-1 former Monacan High School megastar from Chesterfield County transformed from substitute status to prime-time star for Coach Geno Auriemma's Huskies.
In helping UConn obtain a 35-3 record, the American Athletic Conference championship and the NCAA semifinals, the 6-foot-1 wing practically doubled everything she'd done as a freshman.
In 2017-18, Walker averaged 15.5 minutes, 5.8 points, 3.3 rebounds, 0.9 assists and 0.3 steals per game.
This season, she hoisted those per-game norms to 28 minutes, 12.3 points, 6.3 rebounds, 1.9 assists and 1.0 steals.
In 2018, Walker never got off the bench in UConn's NCAA championship game loss to the University of Notre Dame.
By contrast, she was a primary contributor against Notre Dame in this year's NCAA semifinals in Tampa, Fla. Despite an 80-73 loss to the Fighting Irish, Walker had 14 points, eight rebounds, two steals, two assists and two blocks.
Walker's top scoring efforts this season were 34 points against Tulane, 24 against South Florida and 21 each against Central Florida and Tulsa.
She had 14 points — featuring by four 3-pointers in the first half — in UConn's March 31 Elite Eight win over Louisville in Albany, N.Y.
Under Coach Larry Starr at Monacan High, Walker enjoyed the best career of any girl in the history of Richmond area hoops. The daughter of Johnetta and Keith Walker of Chesterfield County scored 2,062 career points while spurring the Chiefs to three straight State 3A championships.
Walker was the nation's consensus top recruit and was personally scouted by Coach Auriemma, who came to the Richmond area on several occasions. Also, Walker made several Team USA squads for her age group.
After two more years of wearing the Huskies' jersey No. 3, Walker would seem to be on a path to play professionally in the WNBA.
Starting with Rebecca Lobo in 1997, the Huskies have had 36 women drafted by the WNBA, including 23 in the first round. Sue Bird, Diana Taurasi, Tina Charles, Maya Moore and Breanna Stewart were all No. 1 overall picks.
Unlike many male standouts, women aren't as apt to jump to the WNBA before finishing their college eligibility.
Walker was UConn's fourth leading scorer this season behind seniors Napheesa Collier and Katie Lou Samuelson and junior Crystal Dangerfield.