Personality: Megan Walker
Spotlight on nation's No.1 ranked high school basketball player
3/31/2017, 12:10 a.m.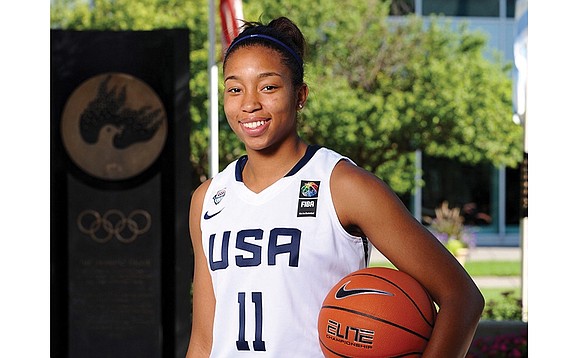 Megan Walker began playing basketball when she was 4 at a local YMCA.
She loved basketball, but also had an affinity for softball. In seventh grade, she realized she had a tough decision to make.
"It got to a point where schedules (for the two sports) conflicted," she says. "I had more friends in basketball, so I chose basketball."
That decision has taken the Chesterfield County resident all the way to the top.
Megan, a senior at Monacan High School, is the No.1 female basketball player in the nation.
The 6-foot-1 distinguished honor roll student has been showered with many of the nation's top accolades and awards. She is the 2017 Naismith National Girls High School Player of the Year, the 2017 Gatorade National Girls Basketball Player of the Year and the Virginia High School League Player of the Year, among others.
Being No. 1 is the type of excellence Megan expects of herself.
"It feels kind of normal, actually," she says. "I try not to let it get to my head."
Earlier this week, she flew to Chicago for the 40th Annual McDonald's All-American Games. She is one of 24 female high school players across the nation selected for the award. In addition to the game, participation includes an awards ceremony and volunteer service at the Ronald McDonald House.
Megan takes the awards in stride.
"I am honored to be able to play," she says.
Since making that choice in middle school, basketball has become Megan's life, with workouts, drills and practices five days a week, training with professionals and her Amateur Athletic Union team, the Cap City Ballerz.
By last October, she had received letters of interest from more than 100 colleges and universities, including the schools she visited — the University of Texas, University of Connecticut and University of Notre Dame.
She accepted a full scholarship from the University of Connecticut, whose Huskies women's team is the most successful in college basketball with a record of 11 NCAA Division I national championships.
She is looking forward to joining the Huskies in the fall.
Already, Megan has played ball across the United States and in Chile and Brazil. But that's just the start. She is hoping for a career in the WNBA and as a college hoops coach.
And when that's over, she wants to become an FBI agent.
Meet this week's Personality and breakout basketball star, Megan Walker:
Latest honor: 2017 Gatorade National Player of the Year.
GPA at Monacan High School: 3.83.
Leadership roles in extracurricular school activities: Captain, Monacan High School Basketball Team; coach, Foundation Basketball Group for ages 5 and under; youth counselor, Ben Wallace Gym (a.k.a. Big Ben's House); coach, Cap City Ballerz AAU Basketball, fifth-graders; basketball skills trainer for middle school girls.
Date and place of birth: Nov. 23 in Richmond.
Current residence: Chesterfield County.
Family: Parents, Keith and Johnetta Walker, and brother, Jonathan, a Virginia Tech graduate.
How I received the news that I was selected Gatorade National Player of the Year: By Elena Delle Donne on the Jumbotron at the Washington Wizards game.
My reaction to this news: I was honored and excited. To have been nominated and considered for such a prestigious award is HUGE. Then to actually win just feels amazing! It is a blessing!
What motivates me to excel: Kids really motivate me. I love working with kids. Playing basketball since age 4, I've had an opportunity to play with a lot of girls and have established a platform to reach so many more. I try really hard to set positive examples both on and off the court.
Favorite subject: Practical law.
I picked up my first basketball: When I was 2.
Career goal: To become an FBI agent.
Ultimate ambition: To play in the WNBA and coach college basketball.
Favorite pig-out food: Buffalo Wild Wings.
The person who influenced me the most: Trainer David Anderson.
The best thing my parents ever taught me: Always respect others.
My next goal: Success at UConn and to learn from the best — Coach Geno Auriemma — and win a college national championship.