NC Central defeats NSU to win MEAC
Fred Jeter | 3/17/2017, 8:37 p.m.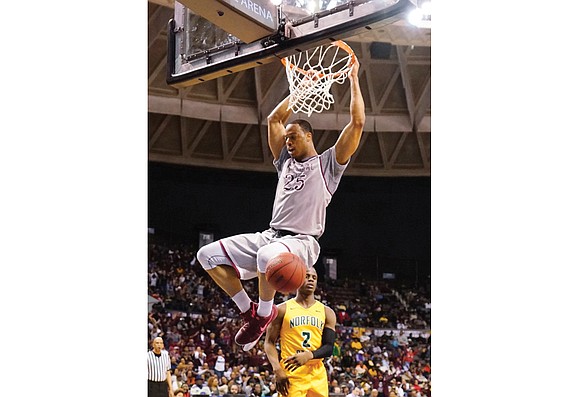 Norfolk State University's up-and-down basketball season ended with a couple of downers.
Finishing with a 17-17 record, the Spartans lost 67-59 to North Carolina Central University in the MEAC Tournament final last Saturday at the Norfolk Scope.
About 48 hours later, NSU lost 73-64 to host Liberty University in Monday night's first round of the CIT, or Collegeinsider.com Tournament in Lynchburg.
It marked the sixth straight season NSU has finished at least .500 — no small achievement in a conference where most of non-conference games are played on the road.
The Spartans had 10 road games before getting into MEAC play in January.
Before losing to North Carolina Central in the MEAC finals, NSU defeated South Carolina State University in the quarterfinals and Howard University in the semifinals.
NSU Coach Robert Jones must replace three seniors, most notably All-CIAA player Jonathan Wade, who had 22 points against Liberty University in his final college game. In just two seasons as a Spartan, Wade scored 852 points, while averaging 19.4 this past season.
Nine players will be returning for NSU, in addition to 6-foot-6 Preston Bungei, who sat out this season with an injury.
North Carolina Central University (25-8) advanced to the NCAA Tournament, where the Eagles were to meet University of California-Davis on Wednesday, March 15, in a First Four match in Dayton, Ohio.
The winner of the N.C. Central-UC-Davis game will be seeded 16th in the Midwest Region and will face No. 1 seed University of Kansas at 6:50 p.m. Friday, March 17, in Tulsa, Okla. That game will be broadcast on TNT.