NSU loses in MEAC final; heads to NIT
When one door closed, another opened for the Norfolk State University basketball team.
The Spartans lost 50-47 to North Carolina Central University in the championship game of the MEAC Tournament last Saturday at the Norfolk Scope.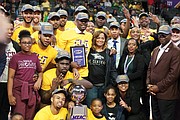 While the Spartans didn't get the automatic NCAA berth that accompanies the MEAC crown, NSU began preparation for their second appearance in the National Invitation Tournament, or NIT.
Coach Robert Jones' squad was scheduled to play the University of Alabama in Tuscaloosa on Wednesday, March 20. The winner of that game would advance to play the winner of the University of Colorado against the University of Dayton game.
The Spartans' previous NIT appearance resulted in a loss to the University of Virginia in 2013. NSU lost a regular season game at Alabama in 2016.
NSU won the MEAC regular season title and then defeated South Carolina State University 78-73 and Howard University 75-69 in the first two rounds of the MEAC Tournament.
In the final against NCCU, NSU's Mastadi Pitt had 14 points and freshman C.J. Kelly had 13 points. Steve Whitley had eight points, nine rebounds, five steals and two assists.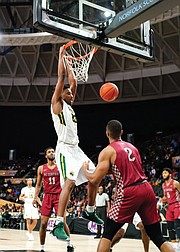 It hurt that All MEAC, second team performers Nic Thomas and Derrik Jamerson failed to score against NCCU.
The Spartans have not won the MEAC Tournament since 2012, when the event was held in Winston-Salem, N.C. The tournament moved to the Norfolk Scope in 2013.