NSU looking for MEAC title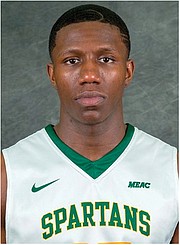 The hometown advantage hasn't worked previously for Norfolk State University in the MEAC Tournament.
But this season could be different.
The NSU Spartans have a lot going for them entering this week's MEAC Tournament at the Norfolk Scope.
NSU's credits include:
• The MEAC regular season title with a 14-2 conference record and 19-12 overall.
• Coach Robert Jones named MEAC Coach of the Year.
• The nation's leading 3-point shooter, Derrik Jamerson, who shoots 51 percent from beyond the arc.
• Second team All-MEAC picks in Jamerson and Nic Thomas, and third team selection Steve Whitely.
• MEAC's top shot blocker Jordan Battle.
• All-Rookie selection C.J. Kelly.
There's more.
The MEAC field has been weakened with the departure of Hampton University to the Big South Conference. HU won the tournament six times, second only to North Carolina A&T State University's 16 crowns. Hampton was the MEAC champion in 2015 and 2016.
NSU last won the title in 2012, when the MEAC Tournament was held in Winston-Salem, N.C. The event moved to Norfolk in 2013, just 1.1 miles from the NSU campus. NSU plays regular season home games on campus at Joseph G. Echols Hall.
Still, despite that apparent advantage, the best the Spartans have done at the Scope was a runner-up finish in the 2017 tournament to North Carolina Central University.
NSU is assured at least a berth at the National Invitation Tournament, or NIT, by virtue of its season title. The MEAC champion advances to the NCAA Tournament, likely with first round play in the First Four in Dayton, Ohio.
• • •
The MEAC Player of the Year is Howard University's C.J. Cole, a 6-foot-1 sophomore from St. Anthony's High School in Jersey City, N.J. The finance major was salutatorian of his high school graduating class.
Cole averaged 21.7 points and 3.8 rebounds for the No. 4 seed Bison. Also, he hit 76 3-pointers, passed for 94 assists and made 56 steals.
Cole's Howard teammates include 6-foot-5 Charles Williams, who averages 18.4 points. Williams hails from Millwood School in Chesterfield County.