NSU bows to Colorado in NIT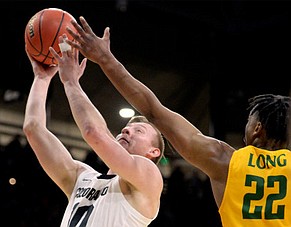 Norfolk State University's long basketball season ended a long way from home in thin Rocky Mountain air.
The final chapter was a 76-60 loss at the University of Colorado in Boulder on Monday night in the second round of the National Invitation Tournament.  
Coach Robert Jones' Spartans had advanced to the second round with a stunning 80-79 upset victory at the University of Alabama on March 20.
The triumph in Tuscaloosa was just the second postseason victory in NSU Division I history, dating to 1997. The other was an upset of Missouri in the opening round of the 2012 NCAA tourney.
NSU's 22 wins are the second highest number of wins in the university's NCAA Division I annals. In a season that began Nov. 2 with an exhibition victory over Virginia State University, NSU finishes a grinding, nearly five-month campaign at 22-14.
NSU won the MEAC regular season title with a 14-2 mark, but fell to North Carolina Central University in the MEAC Tournament final at the Norfolk Scope.
The Spartans were 11-2 at home, 9-8 in road games and 2-4 at neutral sites.
Competing two time zones away, the Spartans couldn't overcome a 20-point halftime deficit at Colorado. The University of Colorado Buffaloes now advance to the NIT quarterfinals.
Mastadi Pitt had 14 points; Alex Long, 11; and Nic Thomas, 10. Steven Whitley added seven points and seven rebounds.
It was the final game for NSU seniors Pitt, Long, Derrik Jamerson, Jordan Butler and Armani Branch.
The game was played before a live crowd of 5,891 fans and a nationwide audience watching on ESPN.