Chuck Berry, rock 'n' roll pioneer, dies
3/24/2017, 7:14 p.m.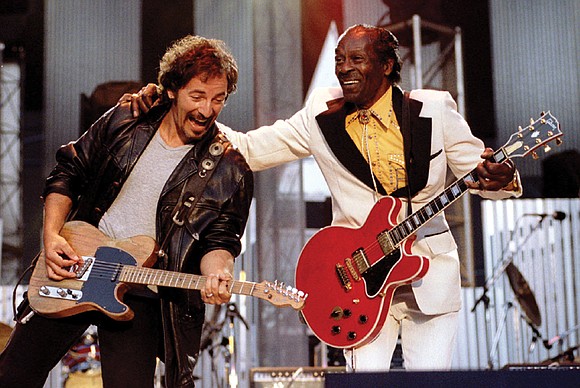 Reuters
Chuck Berry, who duck-walked his way into the pantheon of rock 'n' roll pioneers as one of its most influential guitarists and lyricists, creating raucous anthems that defined the genre's sound and heartbeat, died Saturday, March 18, at his Missouri home. He was 90.
Police in St. Charles County outside St. Louis said they were called to Mr. Berry's home by a caretaker and found him unresponsive. Efforts to revive him failed. He was pronounced dead at 1:26 p.m.
Considered one of the founding fathers of rock 'n' roll, Charles Edward Anderson Berry was present at its infancy in the 1950s and emerged as its first star guitarist and songwriter. He electrified audiences around the world and was emulated by white performers who came to dominate American popular music.
Mr. Berry's hits such as "Johnny B. Goode," "Roll Over Beethoven," "Sweet Little Sixteen," "Maybellene" and "Memphis" melded elements of blues, rockabilly and jazz into some of the most timeless pop songs of the 20th century. Both The Beatles and The Rolling Stones, as well as the Beach Boys and scores of other acts, including Elvis Presley, covered Mr. Berry's songs.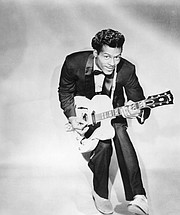 When Keith Richards of The Rolling Stones inducted Mr. Berry into the Rock and Roll Hall of Fame in 1986, he said, "It's very difficult for me to talk about Chuck Berry because I've lifted every lick he ever played. This is the gentleman who started it all."
Mr. Berry's death came five months after he announced plans to release his first album of new music in 38 years — a collection of mostly original material recorded and produced by Mr. Berry, titled "Chuck," and dedicated to his wife of 68 years, Themetta "Toddy" Berry.
"My darlin' I'm growing old! I've worked on this record for a long time. Now I can hang up my shoes," Mr. Berry wrote in a statement for the occasion, coinciding with his 90th birthday.
Born Oct. 18, 1926, Mr. Berry was the third of six children whose father was a contractor and church deacon and whose mother was a schoolteacher. They lived in a relatively prosperous African-American section of St. Louis known as the Ville.
In the first of his brushes with the law, he was sent to a reformatory as a teenager for armed robbery. After his release at age 21, he worked in an auto plant and as a photographer and trained to be a hairdresser.
Mr. Berry came along at a time when much of the United States remained racially segregated, but it was hard for young audiences of any color to resist a performer who delivered such a powerful beat with so much energy and showmanship.
Mr. Berry said he performed his signature bent-knee, head-bobbing "duck walk" across more than 4,000 concert stages. He said he created the move to cover up a near slip and fall on stage and it stuck.
Some critics suggested it was his former pianist, Johnnie Johnson, who composed the tunes while Mr. Berry only penned the lyrics. Mr. Johnson sued Mr. Berry in 2000 for song royalties, saying they were equal collaborators on many of the hits, but the case was dismissed on grounds that the statute of limitations had expired.