Music legend Fats Domino dies at 89
11/3/2017, 1:39 a.m.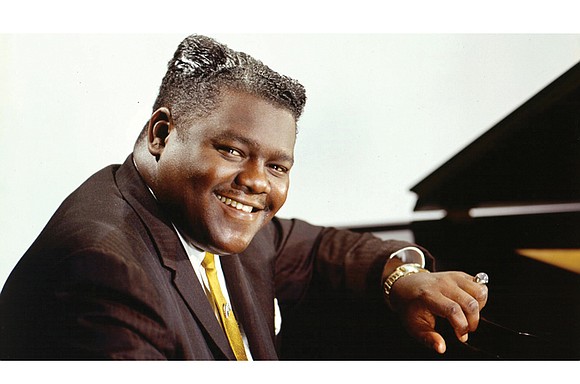 Free Press wire reports
NEW ORLEANS
Before the likes of Little Richard and Elvis Presley, Fats Domino helped usher in the era of rock 'n' roll with a pounding piano and an easy baritone that proved popular among all ages.
The pioneering singer-songwriter and musician, best known for such hits as "Blueberry Hill" and "Ain't That a Shame," died Tuesday, Oct. 24, 2017, in his native Crescent City. He was 89.
Born Antoine Domino Jr. in February 1928, he earned his nickname from his girth — he weighed more than 200 pounds — and his first hit, "Fat Man," a 1949 recording that became the first rock 'n' roll song to sell 1 million copies.
Small in stature at 5-foot-5, he went on to become a giant of popular music.
Mr. Domino's music went viral, selling more than 110 million copies during his lifetime of standards like "Shake, Rattle and Roll" and "I'm Walkin'. "
Five of the recordings he made before 1955, when Mr. Presley's first recording hit the airwaves, were certified as gold records for sales topping 1 million copies. During his career, he had 35 records on Billboard's Top 40 list.

Known for his wide, boyish smile and a haircut as flat as an album cover, he won fans across racial lines with a musical style based on traditional rhythm and blues, accompanied by saxophones, bass, piano, electric guitar and drums and the thumping beat of his piano.
Even after Mr. Presley began his meteoric rise, he acknowledged the influence of Mr. Domino, who remained Mr. Presley's top rival with his oversized persona, dance hall music style and songs of love and home.
Mr. Domino was one of the first 10 honorees named to the Rock and Roll Hall of Fame in Cleveland, and he has since been inducted into virtually every other popular music hall of fame.
His dynamic performances and warm vocals drew crowds for five decades. On stage, he often played a grand piano while standing, throwing his body against the big instrument in sync with the beat of the music.

Mr. Domino's 1956 version of "Blueberry Hill" was selected for the Library of Congress' National Recording Registry of historic sound recordings worthy of preservation.
Mr. Domino stayed true to his hometown. In the 1980s, he stopped touring, claiming he could not get the food he liked outside New Orleans. Even a 1998 invitation to the White House did not persuade him to make an exception.
He was there when Hurricane Katrina struck in August 2005, and he and his family had to be rescued from their mansion in the 9th Ward. He lost his home, three pianos, dozens of gold and platinum records and other memorabilia in the flood.
He rarely performed after that, but in May 2007, he delighted fans with an appearance at a New Orleans music club, where he played a litany of his hits. That performance was a highlight during several rough years, which included the death of his wife of more than 50 years, Rosemary, in April 2008.
The son of a violin player, Mr. Domino taught himself popular piano styles — ragtime, blues and boogie-woogie — after his cousin left an old upright in the house. Fats Waller and Albert Ammons were early influences.
He quit school at 14 and worked days in a factory while playing and singing in local juke joints at night. In 1949, Mr. Domino was playing at the Hideaway Club for $3 a week when he signed with the Imperial record company. He recorded the "The Fat Man" in the back of a tiny French Quarter recording studio.
In 1955, he broke into the white pop charts with "Ain't That a Shame" and enjoyed a parade of successes through the early 1960s, including "Be My Guest" and "I'm Ready."

He also helped link rock 'n' roll with other styles, even country-western music. He recorded Hank Williams' "Jambalaya" and Bobby Charles' "Walkin' to New Orleans."
Like many of his peers, Mr. Domino's popularity tapered off in the 1960s as British and psychedelic rock held sway.
Mr. Domino told Ebony magazine that he stopped recording because companies wanted him to update his style.
"I refused to change," he said. "I had to stick to my own style that I've always used or it just wouldn't be me."
He and his wife raised eight children in the same working class New Orleans neighborhood where he grew up, but they did it in style — in a white mansion, trimmed in pink, yellow and lavender. The front double doors opened into an atrium with chandeliers hanging from the ceiling and ivory dominos set in a white marble floor.
He was flamboyant. In 1988, he paid cash for two Cadillacs and a $130,000 Rolls Royce. When the salesman asked if he wanted to call his bank about financing, Mr. Domino smiled and said, "I am the bank."
In 1998, he became the first purely rock 'n' roll musician to be awarded the National Medal for the Arts. But he cited his age and didn't make the trip to the White House to get the medal from President Bill Clinton.