Pioneering jazz singer Jon Hendricks succumbs at 96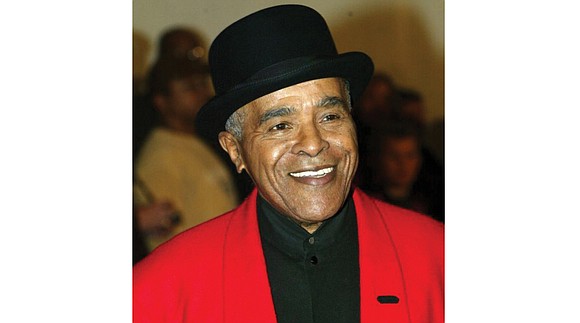 TOLEDO, Ohio
Jon Hendricks, the pioneering jazz singer and lyricist who, with the trio Lambert, Hendricks and Ross, popularized the "vocalese" singing style in which words were added to instrumental songs, has died. He was 96.
His daughter, Aria Hendricks, said he died Wednesday, Nov. 22, 2017, at a New York hospital.
Mr. Hendricks found fame in the 1950s and 1960s teaming with Dave Lambert and Annie Ross. Their interracial trio became one of the most celebrated jazz vocal groups ever, and among the latter day stars they influenced were Joni Mitchell and Manhattan Transfer.
The trio's first album, "Sing a Song of Basie," won acclaim for its use of vocalese, in which voices mimic the instrumental parts. Mr. Hendricks wrote the lyrics to existing Basie songs, and the three recorded their own voices in layers instead of using backup singers.
After the group broke up in 1962, Mr. Hendricks pursued a solo career in London, worked as a jazz critic in San Francisco and released several solo albums.
Mr. Hendricks won a Grammy in 1986 for best male jazz vocal performance of 1985 for his work with Bobby McFerrin on "Another Night in Tunisia," a cut on Manhattan Transfer's album "Vocalese." Mr. Hendricks wrote all the lyrics for the album, to music by Ray Charles, Quincy Jones and others. It was nominated for a near-record 12 Grammys and won three.
In 1997, he was one of three featured singers to perform Wynton Marsalis' "Blood on the Fields" on a CD and on tour in the United States and Europe. That same year, the three-hour work, which tells the history of black people in America, won the Pulitzer Prize for music.
Growing up in Toledo, Ohio, Mr. Hendricks got his start in amateur shows and, at age 14, sang in Toledo nightclubs for two years with another future jazz great from his hometown, pianist Art Tatum, who gave him music lessons after school.
He was on his way to becoming a lawyer in 1950, singing in small clubs at night when his wife asked if Mr. Hendricks could sing with be-bop pioneer and saxophonist Charlie "Bird" Parker at a concert in town.
Mr. Parker was impressed, telling him, "You ain't no lawyer. You're a jazz singer. You got to come to New York." Mr. Hendricks did, two years later.
Mr. Hendricks won awards worldwide. The World War II veteran was given France's highest honor, the French Legion of Honor in 2004, at a performance in Normandy to commemorate the 60th anniversary of D-Day.