Grammy Award-winning singer Al Jarreau dies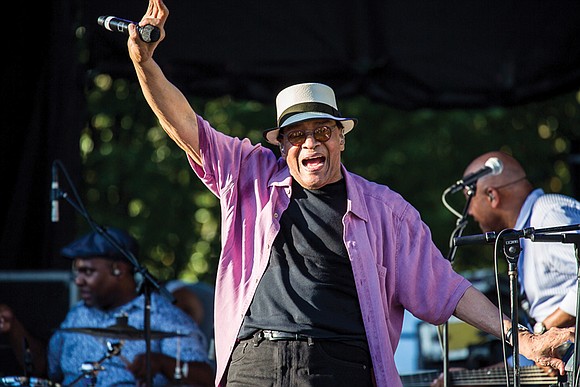 LOS ANGELES
Alwin Lopez "Al" Jarreau delighted music fans for nearly 50 years with his eclectic soulful, genre-blending style.
A rare vocalist who won Grammy Music Awards in three different categories, the Milwaukee-born artist began his career in San Francisco jazz clubs in 1968 and issued his first recording, "We Got By," on Reprise Records in 1975.
During the course of his career, Mr. Jarreau won seven Grammys and was nominated for more than a dozen more.
He was perhaps best known for his 1981 album "Breakin' Away" that included the theme song of the 1980s television series "Moonlighting," and for his vocals in the 1985 song "We Are the World," sung by a variety of U.S. artists to assist with famine relief in Africa.
Mr. Jarreau's legendary voice was stilled Sunday, Feb. 12, 2017, the same day the 2017 Grammys were televised. He died at his residence in Los Angeles just days after he had announced he would no longer tour. He was 76.
Mr. Jarreau's death was confirmed with a statement posted on his website that thanked family members and fans and provided an inspirational note to a younger generation.
"To young people everywhere, especially the musicians he was grateful to meet at school workshops, musical competitions, residencies and at concerts," the statement read, "from you, Al asks a favor. Please find any artistic thing that you can do with passion, and do it. With art in your life, you will be a better family member, neighbor, friend and citizen."
Mr. Jarreau's last performance in Richmond was at the 2016 Richmond Jazz Festival at Maymont last August.
"The legendary Al Jarreau was world-class talent personified," said Jasmine E. Roberts, senior director of client services for Johnson Inc., the Richmond marketing and communications firm that puts on the annual festival.
"We are truly saddened by his passing," she continued. "We are so proud that he graced our stage at the 2016 Richmond Jazz Festival."
Born into a musical family in1940 just before the start of World War II, Mr. Jarreau was the son of a preacher-singer father and pianist mother.
While he sang in the church choir, Mr. Jarreau tried to avoid a musical career. He played college basketball at Ripon College in Wisconsin and earned a master's in vocational rehabilitation from the University of Iowa.
After graduate school, Mr. Jarreau moved to San Francisco where he worked as a rehabilitation counselor and moonlighted with a jazz trio.
He became a full-time singer at age 28 and won national attention with his first recording seven years later.
He won his first Grammy in 1978 for Best Jazz Vocal Album for "Look to the Rainbow," a recording from a European tour.
He experimented with rock and R&B and went on to win six more Grammys, the most recent one in 2007 for Best Traditional R&B Vocal Performance for "God Bless the Child" in which he sang alongside guitarist George Benson and singer Jill Scott.
Mr. Jarreau is survived by his wife of 39 years, Susan Elaine Player, and their son, Ryan.
The family is planning a private service and has not announced plans for a public memorial, according to Mr. Jarreau's manager, Joe Gordon.
Mr. Gordon said the family is requesting that fans not send flowers or gifts, but instead make a contribution in Mr. Jarreau's name to the Wisconsin Foundation for School Music, 1005 Quinn Drive, Waunakee, WI 53597.