Grammy winning singer Nancy Wilson dies at 81
12/21/2018, 6 a.m.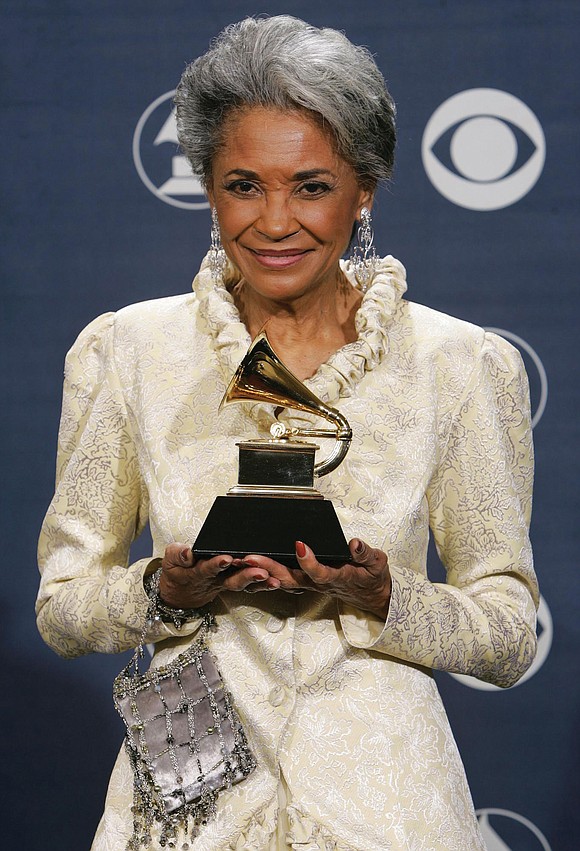 Grammy award-winning singer Nancy Wilson, whose silky vocals turned out hits ranging from R&B to jazz and funk, died Thursday, Dec. 13, 2018, at her home in Pioneertown, Calif., a desert community near Joshua Tree National Park.
She was 81, and had suffered from a long illness. according to her publicist, Devra Hall Levy.
Ms. Wilson's first album, "Like in Love," came out in 1959 to commercial success. But she gained notice as a torch singer in the 1960s. She called herself a "song stylist" in resisting being labeled as a jazz singer because she could cross many genres.
"She was one of those rare vocalists who could do it all – jazz, blues, pop and even funk" Ms. Levy said.
"Her albums were full of gems," said jazz historian and author Ted Giola.
In the 1960s alone, Ms. Wilson released eight albums that reached the Top 20 on Billboard's pop charts. Ms. Wilson's "How Glad I Am" earned her a Grammy in 1965 for best R&B performance.
She won more Grammys, for best jazz vocal album in 2005 for the intimate "R.S.V.P (Rare Songs, Very Personal)," and in 2007 for "Turned to Blue," a showcase for the relaxed, confident swing she mastered later in life.
The National Endowment for the Arts awarded her a "Jazz Masters Fellowship" in 2004 for lifetime achievement.
"Nancy gave her all for her fans," Ms. Levy said.
A music critic once called Ms. Wilson the heir apparent to iconic jazz singer Ella Fitzgerald. She was influenced by Nat King Cole, Dinah Washington and other legendary vocalists.
Ms. Wilson also had a busy career on television, film and radio, her credits including "Hawaii Five-O," "Police Story," the Robert Townsend spoof "Meteor Man" and years hosting NPR's "Jazz Profiles" series.
She also was active in the Civil Rights Movement, including the Selma march of 1965, and received an NAACP Image Award in 1998.
Born in Chillicothe, Ohio, the eldest of six children of an iron foundry worker and a maid, Ms. Wilson sang in church as a girl and, by age 4, had decided on her profession. She was in high school when she won a talent contest sponsored by a local TV station and was given her own program.
After briefly attending Central State College, she toured Ohio with the Rusty Bryant's Carolyn Club Big Band and met such jazz artists as Cannonball Adderley, who encouraged her to move to New York.
She soon had a regular gig at The Blue Morocco, and got in touch with Mr. Adderley's manager, John Levy.
"He set up a session to record a demo," Ms. Wilson later observed during an interview for the Los Angeles Philharmonic. "Ray Bryant and I went in and recorded 'Guess Who I Saw Today,' 'Sometimes I'm Happy,' and two other songs. We sent them to Capitol and within five days the phone rang. Within six weeks I had all the things I wanted."
In the 1970s and after, Ms. Wilson continued to record regularly and perform worldwide, at home in nightclubs, concert halls and open-air settings, singing at jazz festivals from Newport to Tokyo. She was initiated as an honorary member of Delta Sigma Theta Sorority in 1974. She officially stopped touring with a show at Ohio University in September 2011, but had been thinking of stepping back for years.
When she turned 70, in 2007, she was guest of honor at a Carnegie Hall gala. The show ended with Ms. Wilson performing many of her favorites.
"After 55 years of doing what I do professionally, I have a right to ask how long? I'm trying to retire, people," she said with a laugh before leaving the stage to a standing ovation.
Ms. Wilson was married twice — to drummer Kenny Dennis, whom she divorced in 1970, and to Wiley Burton, who died in 2008.
She is survived by a son, Kacy Dennis; daughters Samantha Burton and Sheryl Burton; sisters Karen Davis and Brenda Vann and five grandchildren.
In accordance with Ms. Wilson's wishes, there will be no funeral service, a family statement said. A celebration of her life will be held most likely in February, the month of her birth.