Moonlight, Rudolph and Black Lives Matter: Poet Nikki Giovanni takes on range of subjects at VUU talk
5/5/2017, 9:03 p.m.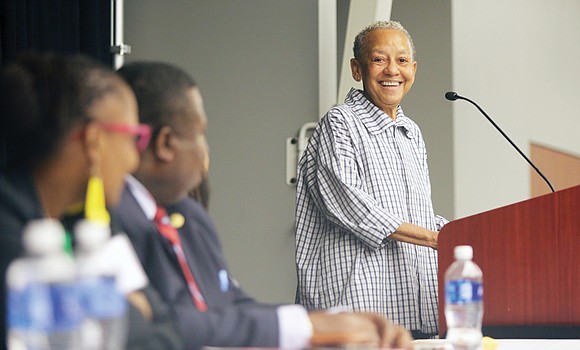 By Holly Rodriguez
The Black Lives Matter movement is benefiting white women, the movie "Moonlight" was a showcase of crazy, and Rudolph the Red-Nosed Reindeer is a story that has a not-so-sweet, enduring side to it.
So said award-winning poet, writer, commentator, activist and Virginia Tech professor Nikki Giovanni.
Ms. Giovanni was the keynote speaker April 28 for "In the Humanities and Beyond," a daylong conference at Virginia Union University on undergraduate research.
Her luncheon talk, held in VUU's Claude G. Perkins Living and Learning Center, covered the subjects of segregation, activism, African-American culture, meeting the queens of England and Ghana, beer, and male and female body parts.
All of her topics were rooted in an inspirational message about the responsibility of African-Americans as a people to stand up, speak out, be heard and share stories of trial and triumph.
Richmond Mayor Levar M. Stoney, who briefly attended, proclaimed April 28 "Nikki Giovanni Day," as did Mayor Richard Headen of the village of Lincoln Heights, Ohio, where Ms. Giovanni grew up.
"I'm incredibly proud of the Black Lives Matter movement," Ms. Giovanni told the Richmond Free Press in an interview before her talk. "The movement gives impetus to a number of people for change and it's been a big help to mobilizing white women.
"It's easy to see how, for white women, rights to their own bodies are being bought and sold in Washington," she said, referring to President Trump signing legislation in April that strengthens state and local government rights to withhold federal funding for family planning services related to contraception, fertility, pregnancy care and more.
Countering such measures requires strength and resilience that can be derived from art, she said. Music, for example, helped Africans cope with the devastating circumstances of the Middle Passage and helped African-Americans build communities once they arrived in the foreign land that would become America.
"Think about being under the deck of a ship, not knowing where you are going or what you're going to face when you get there," she said. "How did we handle it? Music."
Like all creative endeavors, today's art has some hits and misses in her opinion.
"I hated that movie 'Moonlight,' " she said. "Everybody in it was crazy.
"But 'Hidden Figures' — now that was the best film of the year," she continued. "There are more stories like those that need to be told, and the generation coming up needs to find and tell those stories."
Activists in the Civil Rights Movement created space for stories such as "Hidden Figures" to be lived through and told, Ms. Giovanni said in her speech. While racism is here and is likely to continue to exist, African-Americans no longer have to face "colored only" water fountains, entrances or seating on buses.
"I'm proud of the work of my generation because we shut down segregation," she said. "Black people are an amazing people."

Civil rights icons such as Fannie Lou Hamer, Dr. Martin Luther King Jr., Medgar Evers and others endured, were beaten, abused and died so that the current generation could vote without worrying about threats to their lives, she said.