Moonlight, Rudolph and Black Lives Matter: Poet Nikki Giovanni takes on range of subjects at VUU talk
5/5/2017, 9:03 p.m.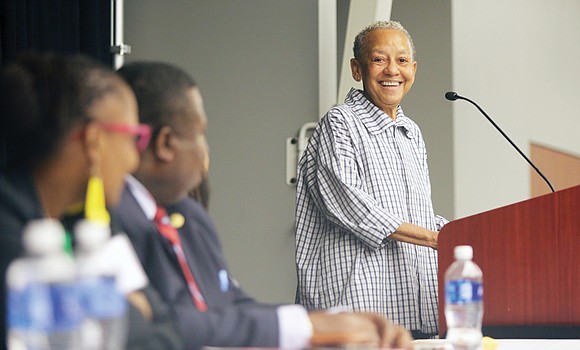 And she warned that African-Americans must be steadfast and careful about getting distracted by the antics of the current administration in the White House.
In addressing the apathy that seems to exist among several voting segments, she said active participation in the community is a must, not an option.
"You don't have the right to give up," she said. "When I hear people saying they don't have an hour to go vote, or whatever, if anybody feels they can't do something, look no further than Fannie Lou Hamer, who took a beating so that we could vote."
She criticized celebrities and others, including Steve Harvey and Martin Luther King III for visiting with the current president, saying such meetings were just a veil for the fact that President Trump is selling racism.
Just like Santa Claus used Rudolph the Red-Nosed Reindeer.
"Everybody laughed at Rudolph until they needed something from him," she said. "We can't make this fool in the White House make us feel alienated from our own country — this country belongs to us."
Telling the stories of how African-Americans persisted and thrived, even during the suffocating factors of extreme oppression and institutionalized racism, is important in creating African-American legacy, she said.
"Remember to tell the stories you have and share them because you don't want someone else to tell your story," she said. "Happiness is a decision — and (stories give) you something that you can build on."
She ended her talk by describing how the ability of African-Americans to make "chitlins" into a delicacy is an example of "making a way out of no way."
And she read her poem, "Stardate 18628.190."