Cornell Brooks out as head of national NAACP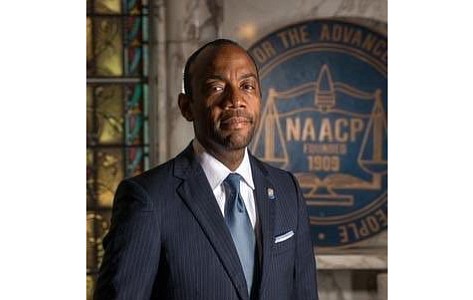 "We'll continue to move forward, we'll continue to organize and we'll continue to seek to recruit young people to carry on the work, " said James E. "J.J." Minor III president of the Richmond Branch NAACP.
That was his take on the unexpected ouster of Cornell W. Brooks, the national NAACP president and CEO since 2014.
Preparing for the civil rights organization's national convention in July, the board of the Baltimore-based national NAACP announced last Friday that Mr. Brooks' contract was not extended. The 56-year-old attorney will leave the post on June 30, when the contract expires.
Mr. Brooks was eager to continue leading the 300,000-member organization that operates on a $27 million annual budget.
He called the decision "baffling" after learning he is losing the leadership post of the venerable civil rights group that dates to 1909 and is working to maintain its relevance in the Trump era.
Despite a high-profile protest arrest, Mr. Brooks apparently was too low key for the board, which apparently wants someone more aggressive and outspoken and more in tune with liberal activists.
In a statement announcing the decision, the board promised a "transformational, systemwide refresh" in order to do more to challenge President Trump and the policies he is undertaking to rollback hard-won gains on various fronts, ranging from voting rights and public education to environmental justice.
During the search for a new leader, board Chairman Leon W. Russell and Vice Chairman Derrick Johnson will manage day-to-day operations, according to the announcement.
Mr. Russell, who has been a member of the board for 27 years, served as president of the Florida State Conference NAACP, while Mr. Johnson, who was elected national board vice chair in February, was state president of the Mississippi NAACP and executive director of One Voice Inc.
Mr. Johnson said officials will embark on a "national listening tour" to "push the needle forward on civil rights and social justice."
Mr. Russell acknowledged that the outcome of the November 2016 presidential election, President Trump's governance and fast-moving news cycles have required the 108-year-old organization to do some soul searching and end business as usual.
He said a spate of recent executive orders and the sweeping policy changes in President Trump's new budget also were factors in the decision to seek a more aggressive leader.
Mr. Russell also cited U.S. Attorney General Jeff Sessions' order to federal prosecutors to pursue the toughest charges and sentences against drug crime suspects, reversing efforts of the Obama administration to reduce penalties for some nonviolent drug offenses.
Mr. Russell said he also is worried about President Trump's executive order to revive the coal industry and nullify President Obama's work to combat climate change.
And he is concerned by efforts of Betsy DeVos, the U.S. secretary of education, to push for more school choice programs while cutting resources from public schools.
Virginia NAACP President Linda Thomas is among those accepting the change.
She praised Mr. Brooks for the job "he has done," but accepts the board's decision about "the need for change."