'Do not sell your soul or your vote for a chicken box'
11/3/2017, 12:45 a.m.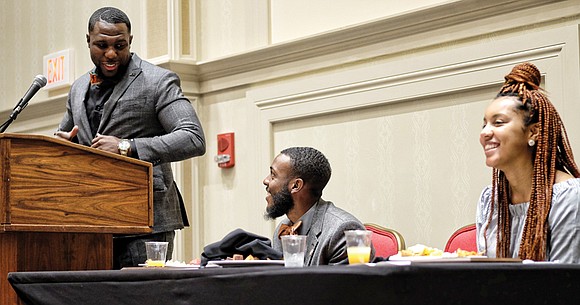 By Leah Hobbs
The fight for justice doesn't end with the removal of Confederate monuments.
"If the Negro is to be free, we must sign our own proclamation," Wes Bellamy, Charlottesville's vice mayor told the audience at the state NAACP Youth and College Division's Leadership Breakfast on Sunday. He was quoting Dr. Martin Luther King Jr.
"People give us what they want to give us because they believe it's all that we will take," he said. "Do not sell your soul or your vote for a chicken box."
Dr. Bellamy was the keynote speaker at the breakfast attended by nearly 200 young people and adults during the weekend's Virginia State NAACP Convention at a Henrico County hotel.
He led the effort by the Charlottesville City Council to remove the statues of Confederates Robert E. Lee and Stonewall Jackson from public parks named for the generals. He began considering the effort in 2013 after hosting a community cookout in Lee Park.
His efforts came to fruition earlier this year, when, between February and September, Charlottesville City Council voted to removed both statues and rename the parks Emancipation Park and Justice Park.
Dr. Bellamy said he remains encouraged despite subsequent events, including the violent "Unite the Right" rally Aug. 12 by white nationalists and neo-Nazis who descended on Charlottesville to protest the statues' removal. Protesters and counterprotesters clashed, leaving many injured. Heather Heyer, a 32-year-old paralegal, was killed when a neo-Confederate supporter plowed his car into a crowd of counterprotesters.
"Remain patient with people but impatient with progress," he told the breakfast group.
People know Charlottesville as a college town that is home to the University of Virginia, but they don't know the history of its oppression, Dr. Bellamy explained.
The city opposed the integration of public schools after the landmark 1954 U.S. Supreme Court decision in Brown v. Board of Education, and shut down public schools rather than allow African-American students to attend the all-white public schools, he said.
Several of the sites where the controversial Confederate monuments are located were once home to thriving African-American communities, such as Vinegar Hill, he continued. Residents in Vinegar Hill were moved to housing projects when the community was leveled for redevelopment. Businesses also were moved.
"Whatever we do, we uplift and protect our own," Dr. Bellamy said. "We are in the New Civil Rights Movement."
He said, "There's a huge difference between equity and equality. Equality means everyone gets the same thing. Equity means everyone gets what they need in order to be successful."
He said the City of Charlottesville currently spends only 0.04 percent of its funds with minority contractors. That's an equity problem, he said.
Be empowered, be encouraged, be aware and be together, he told the group.
He quoted Dr. King: "Believe in yourself and believe that you are somebody. Nobody can do this for us."
He said, "Yes, I'm black. I'm proud of it. I'm black and I'm beautiful," he said, again quoting Dr. King and echoing the conference theme for the state NAACP Youth and College Division, "Our Black Is Beautiful," highlighting self-esteem, dignity and cultural richness.
Several youth chapters around the state received awards for their work in the community, including the Roanoke NAACP Youth and College chapter. The chapter organized marches and sit-ins surrounding the police shooting death of 18-year-old Kionte Spencer in February 2016. Two Roanoke County police officers fired three shots, striking Mr. Spencer, after repeatedly commanding him to drop what appeared to be a pistol. The pistol turned out to be a BB gun, authorities said.
After an investigation, the Roanoke County commonwealth's attorney filed no charges against the officers, saying they were reasonably in fear for their safety.