Logan excels on slow-pitch softball circuit
Fred Jeter | 11/3/2017, 1:49 a.m.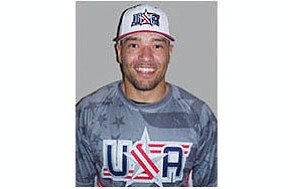 Most men play slow-pitch softball for an excuse to slip out of the house, get some exercise and perhaps throw back a few cold ones with the guys.
Brian Logan falls into a much different category.
While his day job is with U-Turn Sports Performance Academy, the former Varina High School athlete is about as close as what the Richmond area has to a professional softball player.
While "B-Lo" hasn't become wealthy hitting and fielding the stitched 12-inch ball, he at least covers his expenses while traveling a national weekend circuit.
"It's like a part-time job," said the 31-year-old, left-handed outfielder who competes in the USSSA Conference, which generally is considered the "big leagues" of softball.
USSSA, short for U.S. Specialty Sports Association, is based in the Orlando, Fla., area, although it was founded in 1968 in Petersburg.
The conference circuit consists of 13 tournaments crisscrossing America, with the season championship at Disney Stadium in Orlando.
A bachelor, Logan split his time this past season between the Indiana-based Backman and New York-based SIS-Thunder.   
Logan also was named to Team USA Futures (under age 32) that defeated Canada in the nationally televised Border Battle in Oklahoma City.
He is renowned for his exceptional speed in the field and on the bases, and for being a steady, line-drive hitter.
"I can hit home runs, but that's not my thing. My goal every tournament is to hit .700 — to get on base," he said.   
His résumé features an impressive string of All-Tournament and Defensive MVP accolades.
Detailed statistics are kept, much like pro baseball. If someone isn't performing, they won't be around long.
In a three-man outfield — as opposed to the traditional four men — few cover as much turf as Logan, considered among the nation's top glove men.
A typical softball weekend for Logan starts with a Friday flight to wherever the top-end action is about to unfold.
"Your sponsor pays for your flight, rental car, hotel — two to a room," he said. "And when you get there, you get an envelope with $500 in it, although some get more.
"I'm not saying I bring anything home when we go to (Las) Vegas, but usually I don't spend any more than about $150," Logan said.
The 5-foot-11, 205-pound Logan ranks with Varina High's all-time greats. As a member of the Class of 2004, he starred as a baseball pitcher/centerfielder and as the football quarterback.
He was drafted by the Cleveland Indians coming out of Varina High and by the Baltimore Orioles following a stint at Louisburg College in North Carolina. His potential was never fulfilled, however, because of a shoulder injury that required surgery by famed Dr. James Andrews in Birmingham, Ala.
Logan wound up playing pro baseball one year with the Milwaukee Brewers chain and two years in the independent Frontier League.
For the past seven years, he has worked as front desk and activities manager at U-Turn Sports, a West End youth sports training center.
He was lured into slow-pitch softball by another former Varina High athlete, Cory Boothe, who also has played in the top tier. He became an instant star, as one might expect. Soon, offers from more serious teams poured in and, before long, he arrived at softball's pinnacle.
"To be honest, I thought slow pitch was a bunch of old men just having some fun," Logan said. "I never knew it existed on this (conference) level and that it attracted the type of athletes you see on the circuit."
To stay sharp, Logan plays on occasion with friends at area complexes such as Dorey Park, Pole Green and Glen Allen and also at Battlefield Park Elementary School in Hanover County.
As for batting practice, he said he takes it "wherever I can get it — sometimes off a tee. I've even had my mother pitch to me."
A good son and a good hitter, "B-Lo" promises never to blast it back at mom.