Baseball's Jalen Rudolph of TJ conference player of the year
Fred Jeter | 6/5/2015, 11:43 p.m. | Updated on 6/5/2015, 11:43 p.m.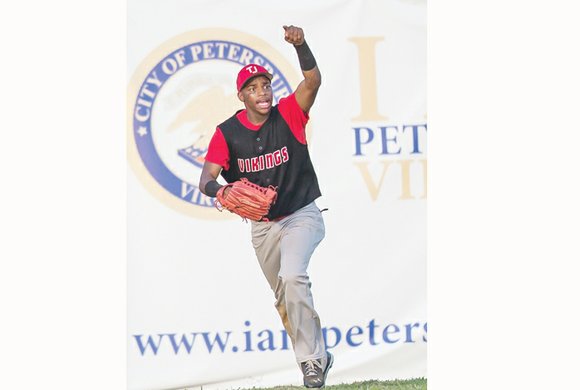 If Richmond Public Schools was to name an All-Round Athlete of the Year, Jalen Rudolph would deserve serious consideration.
With distinction, Rudolph wore red, white and black jerseys No. 1, No. 15 and No. 10 this past school year for Thomas Jefferson High School's Vikings.
He wore No. 1 as football quarterback/defensive back, earning All-Conference 26 honors for Coach Chad Hornik.
During basketball, he was No. 15 as Coach Kendrick Warren's defensive sparkplug.
Finally this spring, he was clearly the Vikings' most versatile talent in baseball, wearing No. 10 for Coach Harold Henry.
Pitching, roaming centerfield, batting leadoff and scurrying around the bases, the slender, 5-foot-11 left-hander was named Conference 26 Player of the Year, while also being named All-Conference pitcher and center fielder.
Rudolph's all-round talents helped Thomas Jefferson High to a runner-up finish May 29 behind Hopewell High School in the Conference 26 tournament and a trip to the 3A East Region playoffs for the second straight year.
Leave it to someone name Rudolph to become a shining light and lead the way for the West End school.
"Jalen had a fantastic senior season," said Coach Henry.
"On the baseball diamond, he's got it all — speed and power, a rocket for an arm. He's one of the best pitchers and outfielders in the area."
On the mound at Petersburg Sports Complex where the tournament was played, Rudolph fired a 1-hitter with nine strikeouts as Thomas Jefferson High defeated host Petersburg High School 11-1 to assure back-to-back region berths.
In his fourth varsity season, Rudolph hit .450 this spring, with one home run, three triples and 30 stolen bases.
He's a self-taught pitcher with a fastball in the low 80s and a variety of teasing off-speed deliveries.
"I learned how to throw a curve and a change up from YouTube videos," Rudolph said. "I practiced in my backyard at home, throwing into a crate the size of a strike zone."
Coach Henry's Vikings have evolved as clearly the city's top baseball program during the past four seasons.
This season, Thomas Jefferson High was 5-0 against its Richmond rivals. The Vikings defeated John Marshall High School twice, 11-1 and 14-1. It also defeated Armstrong High School 14-1, Huguenot High School 12-0, and George Wythe High School 12-1.

"What makes me most proud is that our team got better every year," Rudolph said.
"We only won two games my freshman year. Then it was four, then six and seven this season. And I'm optimistic TJ will continue to improve after I'm gone."
Rudolph has honed his diamond skills through various city baseball programs, including the Metropolitan Junior Baseball League.
He also has gained experience through the 3D Baseball program, The Richmond Outreach Center church and with the Westover Warriors based at Westover Playground.
"I used to just go to Westover and wait for someone to show up, someone to pitch with or who could pitch to me," he said. "Usually it was against older boys."
During summers, he competed with a Metro-based team entered in the Chesterfield Baseball Clubs' league at Rockwood Park.
The swift southpaw is far from finished.
He has the grades — above a 3.0 GPA — and the baseball skills to get to the next level.
Virginia State University, Norfolk State University and Lynchburg College are among the schools with baseball teams expressing interest in the versatile Viking.
He also has drawn recruiting interest on the gridiron.
Rudolph had six touchdowns, running and passing, and had four defensive interceptions.
He was selected for the Big River Rivalry all-star game held at Randolph-Macon College.
The Vikings' man for all seasons lives with his mother, Nakia Rudolph, in South Richmond and earns spending money working the cash register at Sears.
Rudolph will leave Thomas Jefferson High School with a diploma and a proud smile on his face, knowing he was the best player on the best team in Richmond.