New scoreboard lights up for teams at Thomas Jefferson High School
4/13/2017, 8:40 p.m.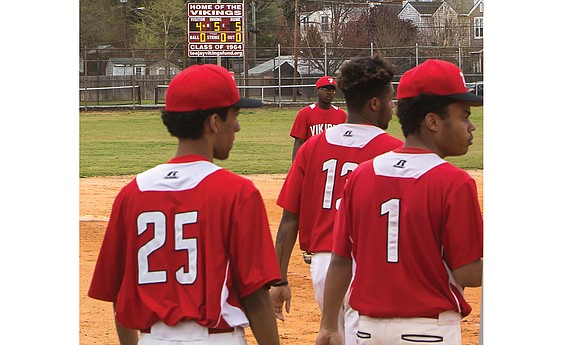 The good news comes twofold for Thomas Jefferson High School baseball.
First, the West End school has its first-ever electronic scoreboard.
Just as encouraging are signs that the Vikings have some sluggers capable of lighting it up.
"We've got some talent," said veteran Coach Harold Henry.
But he adds a warning: "We're so young."
With a lineup brimming with underclassmen — including two freshmen — the Vikings entered spring break with a 3-1 record, an encouraging mark above .500.
The new scoreboard was unveiled April 3 and the Vikings responded with a 5-4, 6-5 doubleheader sweep of visiting Armstrong High School.
"It was a perfect day," said Coach Henry.
Thomas Jefferson's ace pitchers also appear to be among the top hitters.
Senior Nick Woolfolk and junior Dylan Graham hurled complete games against Armstrong High. Graham also picked up a mound win over Huguenot High School.
"They're our co-No. 1's," Coach Henry said.
He feels with Woolfolk and Graham toeing the rubber, his team can be highly competitive in the state 3A classification.
Woolfolk ranks among the area's most versatile and talented athletes. He also served as Thomas Jefferson's football kicker, was a second-team, All-Conference 26 basketball guard and is a top threat in soccer.
Woolfolk and Graham both play shortstop when not pitching, and they provide plenty of gusto swinging the bat.
Through four games, Woolfolk was 6-for-6 at the plate; Graham, 4-for-10.
Others being counted on are third baseman Darius Kenny, second baseman Teon Tiller, first baseman Adam Lumsden Cooke, leftfielder James Albiston and the two prized ninth-graders — catcher Davionne Anderson and centerfielder Nicholas Hendrick.
Acquiring and installing the scoreboard was a "partnership," said Thomas Jefferson Activities Director William Holt.
The Thomas Jefferson Class of 1964, in conjunction with the TJ Viking Fund, raised money for the project and Richmond Public Schools took care of the electrical wiring.
Former Thomas Jefferson athlete and Coach Russell Flammia has been instrumental in the fundraising efforts, Holt said.
"Our next project is dugouts. That's for next year," he said.
Facelift coming: Also in the works is a plan to dramatically upgrade the surface of the football-soccer field.
"It needs a lot of work," said Holt. "Basically, we're competing in the 21st century with facilities designed for 1930."
The school opened Sept. 11, 1930.
Searching for a more competitive balance, Holt has restructured the football schedule in recent years.
Next fall's slate includes 4A Caroline High School, 2A Goochland County and Greensville County high schools and 1A Essex and William Campbell high schools in Essex County and Campbell County, respectively.
The Vikings also will play city 3A rivals John Marshall and Armstrong high schools and Henrico County's J.R. Tucker, Glen Allen and Deep Run high schools from the old Colonial District.
Gone are the likes of 5A powerhouses Mills Godwin, Douglas Freeman and Hermitage high schools of Henrico.
"There's tough and then there's unbeatable,' said Holt. "We want our kids to have a chance."