Thomas Jefferson Vikings want the victories
9/15/2017, 11:21 a.m.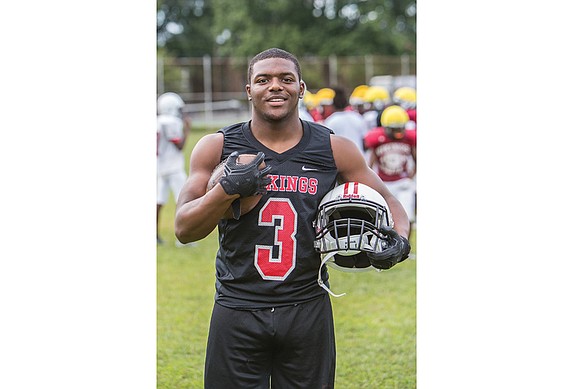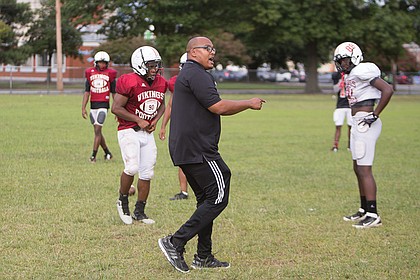 Thomas Jefferson High School is altering its football strategy — and the plan seems to be working.
Among Richmond's beleaguered football programs, Thomas Jefferson is most determined to schedule opponents more in line with its own size and capabilities.
"We're trying to place our kids in a situation where they have a chance for some (wins) and at least to be competitive," said the school's activities director, Dr. William Holt. "No one wants 50-0 games."
That's a comforting philosophy for first-year Vikings Coach P.J. Adams, a former assistant coach who recalls hard times.
"I remember games, like against Hermitage, where we knew we couldn't win. We just hoped no one got hurt," Coach Adams said.

"That put a lot of wear and tear on our players and coaches."
Last year, with a more realistic schedule, the West End school won four games under Coach Chris Mitchell, the most wins since 2004.
With a current enrollment of 867 students, Thomas Jefferson is rated in enrollment Class 3 — on a scale of 1 to 6 — by the Virginia High School League.
The Vikings struggled mightily in the past against the old Colonial District schedule in playing larger schools from Henrico and Hanover counties. Dr. Holt has made it a pet project to level the playing the field in all sports, starting with the gridiron.
Thomas Jefferson's current schedule includes playing against two Class 1 schools, Essex High of Tappahannock and William Campbell High of Campbell County; two Class 2 schools, Goochland High and Greensville County High of Emporia; two Class 3 schools, Richmond's Armstrong and John Marshall; a Class 4 school, Caroline High of Caroline County; and three Class 5 schools, Henrico County's J.R. Tucker, Glen Allen and Deep Run.
Tucker, Glen Allen and Deep Run are the suburban schools against which Thomas Jefferson has been more competitive.
"There's no awe factor with any of our opponents," Coach Adams said. "Yeah, it's more travel. But we feel like we have a chance to be successful every week."
Gone from the season schedule are Class 5 perennial playoff contenders Hermitage, Douglas Freeman, Mills Godwin and Patrick Henry from the former Colonial District era.
Thomas Jefferson football bottomed out in 2011, with the team going 0-10 while being outscored 432-65. In its final two games against Henrico's Hermitage and Richmond's John Marshall, the Vikings were pounded by a combined 110-0.
There was a cry for a change.
Chad Hornig arrived as coach in 2012 and got the ball rolling with improvements in facilities and uniforms and by organizing the sponsoring TeeJay Viking Fund. He also assisted in removing juggernaut Hermitage High from the schedule in 2015. From 2010 through 2014, Hermitage walloped Thomas Jefferson 245-21.  
"High school football is often a numbers game, and we don't have the numbers," Dr. Holt said. "When you take into account how many of our male students are ineligible or working a job after school or just not interested, our target base is down to 30 to 40 kids."