Thomas Jefferson starts football season with new field, new quarterback and new classification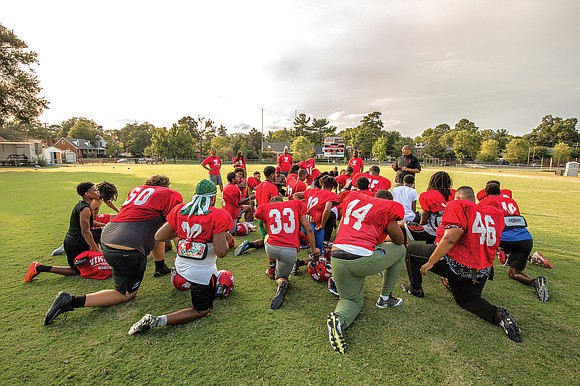 Jaylen Tyler scored three touchdowns in Thomas Jefferson High School's opening 48-6 win at Colonial Heights High School. Shamar Graham tallied three touchdowns in the home-opening 56-6 rout of Armstrong High School on Wednesday, Sept. 4.

Victorious Vikings
Thomas Jefferson High School has outscored its first two opponents this season by a combined 104-12 while bolting to a 2-0 start.
Next up for the Vikings is a game Friday, Sept. 13, at Amelia High School. Kickoff: 7 p.m.
TJ High School football has a new classification, a new field and a new quarterback.
All point to continued success for Coach P.J. Adams' smooth- sailing Vikings.
"We expect to win. We're not afraid of anyone we play, regardless of clas- sification," Coach Adams said.
First the classification: Due to a low enrollment of about 606 students, Thomas Jefferson High has been dropped from the state's 3A to 2A classification, creating a slightly smoother playoff route.
"We're looking for a deep run into the playoffs," Coach Adams said.
The field: Gone is the old—make that ancient—field (TJ opened in 1929). "The Cabbage Patch," as it was called, has been laid to rest.
Finally, at a cost of some $60,000, TJ has a modern turf field with turtle-back slope. This also will enable TJ to play home soccer games.
"Nice and soft," Coach Adams said. "Now we have 120 yards of grass."
There also is some additional bleacher space, specifically for the marching band.
Quarterback: Taking over as the Vikings quarterback is Jaylen Tyler, a transfer from Huguenot High. In just eight games for Huguenot last fall, Tyler passed for 1,652 yards and 14 touchdowns.
TJ is a double winner here. Tyler's arrival frees the Vikings' 2018 quarterback, Jaylen Jones, to play his more natural posi- tion, wide receiver.
"Jaylen Jones should be one of Jaylen Tyler's top targets," Coach Adams said. "I look for Jaylen (Jones) to have a break-out season."
TJ has become "the little engine that could" in Richmond, fueled by optimism, hard work and a surprising talent base. After many disappointing seasons, TJ turned the corner a while back under Coach Chad Hornik. Coach Adams inherited the momentum and shifted into high gear.
TJ has made the state football playoffs four straight years and has won a playoff game each of the past two seasons. Offensively, TJ has a quality running back in 210-pound Shamar Graham and a huge offensive line, showcasing 6-foot-8, 350-pound sophomore Sala Hawash, a transfer from Benedictine College Preparatory School.
"He's got quick feet," Coach Adams said. "He's also a good student and has two older brothers who played here."
Coach Adams returns seven defensive starters led by three returning All-Region performers — Graham at linebacker, end Shacko Fearon and safety Jacobi Harrison.
So much has changed.
TJ was a woeful 1-69 the seven seasons prior to Coach Hornik's arrival in 2012. Now the Vikings reign as the unofficial champs of Richmond and also among Virginia's top inner-city football programs.
"I attribute it to preparedness, physical fitness and mental toughness," Coach Adams said.