Thomas Jefferson High's Shamar Graham warms up for state semifinal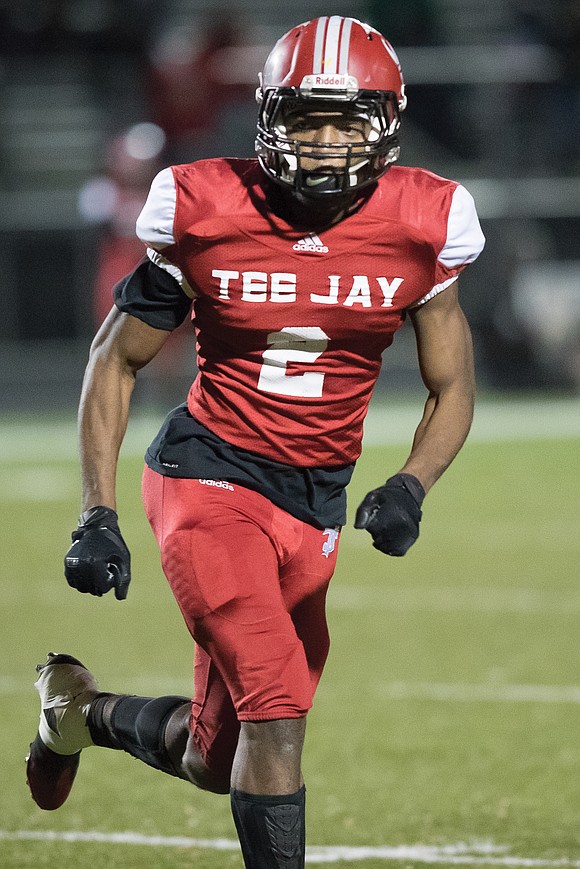 It's fitting Shamar Graham wears jersey No. 2 for Richmond's Thomas Jefferson High School.
The senior ball carrier is too powerful for smaller defenders to tackle and too evasive for larger ones to chase him down.
"Shamar's a bruiser, but he can also take it to the house," said Vikings Coach P.J. Adams.
The well-muscled, 6-foot-1, 220-pound multitalented Graham is a prime reason why the Vikings have advanced further this season than ever before in the state football playoffs.
The Vikings will play 1 p.m. Saturday, Dec. 7, in the state 2A semifinals against Stuarts Draft High School in Augusta County.
Graham, nicknamed "Showtime," has been a catalyst offensively as a rumbling tailback and defensively as an instinctive, hard-striking linebacker. Roaming sideline to sideline with an attitude, he averages about 10 tackles per game.
"Looking ahead to the next level, Shamar will likely be a linebacker," Coach Adams said.
He's a key to special teams, too. Twice Graham has run back punts for touchdowns.
"I like to think of myself as an all-round player," he said. "Whatever the team needs is what I do."
Graham, who transferred to Thomas Jefferson from Armstrong High School prior to his junior season, said he patterns his exciting running style after his favorite pro, Saquon Barkley with the New York Giants.
"I enjoy everything about football, but there's a certain thrill you get carrying the ball," Graham said.
With the ball tucked under his strong right arm, he bulldozes over some opponents while dodging and outrunning others. He shows off that speed not only on the gridiron, but also as a sprinter and hurdler on the Thomas Jefferson track team.
Graham, who ran for about 900 yards during the regular season, has saved his best for the postseason.
He has been called on more frequently because of a finger injury to starting quarterback Jaylen Tyler.
"Because we've had such a strong passing game, I wasn't needed to be a workhorse," said Graham. "I'm fine with any role."
To start Thomas Jefferson's playoff run, Graham rushed for 163 yards and three touchdowns in the Class 2 Region A quarterfinal win over Brunswick High School.
He followed that up with 150 yards overland and two touchdowns in Thomas Jefferson's regional semifinal win over Greenville High School.
Graham was just warming up. He added 162 yards rushing and another touchdown in the Vikings 30-28 victory over King William High School last Friday in the region finals at Huguenot High School.
For his success, Graham credits his offensive line featuring 6-foot-8, 350-pound Salah Hawash and 6-foot-5, 285-pound Christian Woolridge.
His "thank-you" list extends to his mother, Tina Graham, who never misses a snap of a Thomas Jefferson football.
"My mother is the reason I'm where I am," he said.
Graham is the epitome of the rough, tough football player come game day, but there is a softer side. People also may know him as the friendly, part-time employee at the Dunkin' Donuts on Nine Mile Road.
No. 2 in the Vikings' red, white and black jersey is never too busy to help customers with a hot cup of coffee and a bag of donuts.
City verses country
Thomas Jefferson and Stuarts Draft high schools have little in common other than enrollment figures and winning football.
Both teams compete in Class 2, the second smallest among Virginia's six public school classifications.
On Saturday, Dec. 7, Thomas Jefferson High (11-2) will travel to Stuarts Draft High (12-1), tucked between Waynesboro and Staunton in rural Augusta County, to play in the state 2A semifinals. Kickoff is 1 p.m.
Stuarts Draft has a population of about 9,000, about 95 percent Caucasian.
By contrast, Thomas Jefferson represents Virginia's hustling, bustling capital city with a population of about 228,000, and about 47 percent African-American.
This is nothing new. Thomas Jefferson's previous playoff opponents — Brunswick, Greenville and King William high schools — were all from the countryside.
The other Class 2 semifinal game pits Appomattox County High School against Graham High School of Bluefield.
The state final is Saturday, Dec. 14, in Salem.