Early hoop dreams for VUU, VSU
Fred Jeter | 11/17/2017, 7:43 p.m.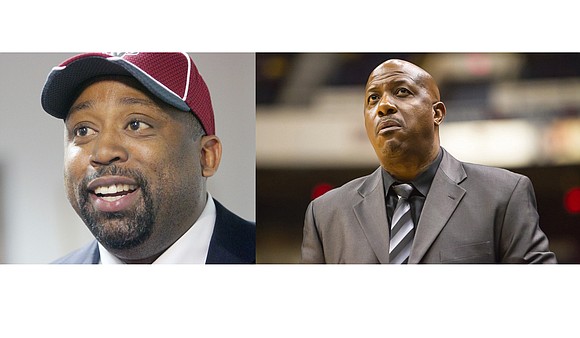 Bus rides, hotels and restaurant food seem to agree — at least so far — with both the Virginia Union University and Virginia State University basketball teams.
VSU opened Nov.10 and 11 with tight victories over the University of Pittsburgh at Johnstown (79-75) and host Indiana University of Pennsylvania (69-64).
Also in Pennsylvania, VUU beat Lock Haven University (72-69) and took host Shippensburg University into overtime before losing 78-77.
The VUU Panthers are playing their first five games away from Barco-Stevens Hall in Richmond.
The VSU Trojans will return home to the VSU Multi-Purpose Center after playing four road games.
Following a weekend in the Keystone State, both squads are heading South.
Next up for Coach Jay Butler's Panthers is a trek to North Carolina to face Barton College on Friday, Nov. 17, and host University of Mt. Olive on Saturday, Nov. 18.
VSU is traveling to South Carolina to face Lees-McRae College of North Carolina on Friday, Nov. 17, and host Newberry College on Saturday, Nov. 18.
Both CIAA schools, while coming off strong seasons, were hit hard by graduation.
VUU, which was 22-8 a year ago, lost three starters — Ray Anderson, John Mitchell and Tavon Mealy. VSU, which was 22-6 last season, waved goodbye to All-CIAA Elijah Moore and Kevin Williams.
 That means other players must man up this season.
When the teams finally come home, VUU fans likely will take notice of 6-foot-7 William Jenkins. The sophomore from Baltimore averaged nine points and seven rebounds at Shippensburg and offers long-armed inside defense.
 A newcomer of note for VSU is Brandon Holley from 2015 State 3A champion George Wythe High School in Richmond.
Holley led the Trojans' scoring (19 points) in an exhibition win at Norfolk State University on Nov. 4 and added 15 points in VSU's victory over Pittsburgh-Johnstown.
The 6-foot-1 guard known for his long-range marksmanship is a transfer from Trinity Valley Community College in Texas.
•
VUU won't play its first home games until its Thanksgiving Classic, when the Panthers will face St. Augustine's University at 5 p.m. Saturday, Nov. 25, and then Winston-Salem State University at 4 p.m. Sunday, Nov. 26. 
The VSU Trojans' home opener will be 4 p.m. Saturday, Nov. 25, against Newport News Apprentice School.