VUU fires football coach
11/17/2017, 8:25 p.m.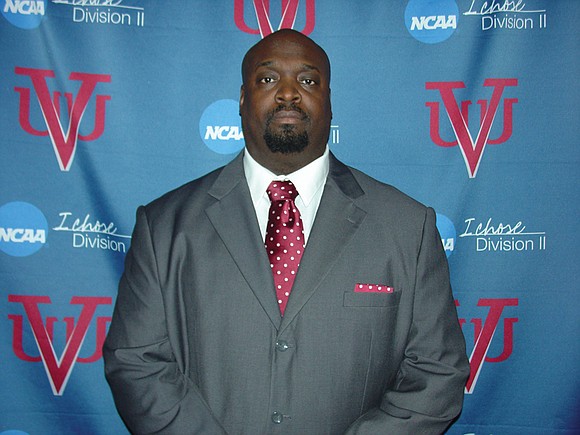 Coach Mark James has been fired after four productive seasons as Virginia Union University's head football coach.
The question now is, "Why?"
The record alone offers few clues.
Coach James posted a 26-15 record — 20-8 in the CIAA — leading the team to contention for the CIAA Northern Division title each year and guiding the Panthers to their first NCAA football appearance since 1991.
VUU Athletic Director Joe Taylor suggested it was what fans didn't see that led to the dismissal.
"Coaching football isn't just about showing up on game day," Mr. Taylor said. "A coach's main responsibility is preparing young men for life. The discipline could have been stronger."
Mr. Taylor declined to offer specifics. 
There was one ugly incident this season when VUU players and coaches knocked electronic equipment out of the hands of reporters during the postgame handshake lineup with Winston-Salem State University.
Free Press efforts to reach Coach James have been unsuccessful.
In the meantime, co-defensive coordinator Mike Fanoga has been named interim coach.
Moving forward, Mr. Taylor said he will begin accepting applications on Dec. 1 and hopes to have three finalists on campus for interviews by Dec. 15.
Mr. Taylor, 67, who is among the most successful coaches in HBCU football history, said he is not a candidate for the coaching job, a position he once held.
"The Lord blessed me with 40 years on the sidelines," he said. "I've transitioned to administration."
Mr. Taylor led VUU to a 60-19-3 mark from 1984 to 1991 before going on to more success at Hampton University and Florida A&M University.
Coincidentally, Coach James had the title of interim coach for two months following the December 2013 exit of former VUU Coach Michael Bailey, who also served as the Panthers' athletic director.
When Mr. Taylor was named athletic director, succeeding Coach Bailey, one of his first acts was to hire Coach James as head coach in January 2014. Coach James had been a standout lineman at VUU under former Coach Willard Bailey and served as an assistant under Michael Bailey before getting the interim tag.
He inherited an unsteady ship from Coach Michael Bailey, who was 22-28 in six seasons, but slipped to 3-7 his final year with several lopsided defeats.
Coach James turned those numbers around during his inaugural season on Lombardy Street, logging a 7-3 record.
The Panthers improved to 8-3 in 2015, earning VUU's first NCAA Division II berth since Mr. Taylor was coach.
In 2016, VUU was in the driver's seat for the CIAA Northern Division crown before finishing with losses to Elizabeth City State and Virginia State universities.
There were published reports that Coach James was fired following the 2016 campaign, but they proved incorrect.
This season was one of near misses. Agonizing, one-point losses to Winston-Salem State University and VSU — in Coach James' final game — were the difference between a banner season and a so-so (6-4) effort.
Coach James' squads were known more for their explosive offense than a stingy defense. The Panthers averaged 32 points and 386 yards total offense this season, while scoring 42 touchdowns.
On the debit side, VUU was among the nation's most penalized teams with 115 infractions for 986 yards.
Replacing a coach is no easy assignment. There is the matter of dealing with the assistant coaches while also attempting to stymie player defections.
"Our assistant coaches are all welcome to re-apply," Mr. Taylor said.
The athletic director has addressed the team and stressed that the players should continue to achieve in the classroom.
The Panthers have a strong cast of underclassmen, including CIAA Defensive Player of the Year Sterling Hammond, quarterback Darius Taylor and several talented receivers and ball carriers.
Coach James clearly had a sharp eye for talent. VUU had three CIAA All-Rookie picks, kicker Jefferson Souza, receiver Jaiden Reavis and offensive lineman Matt Curry.
Also, a new coach must develop his own recruiting honey holes. Coach James relied heavily on contacts he made from coaching high school football in South Florida. There were 23 Floridians on this season's roster.