College student feels new confidence with guide dog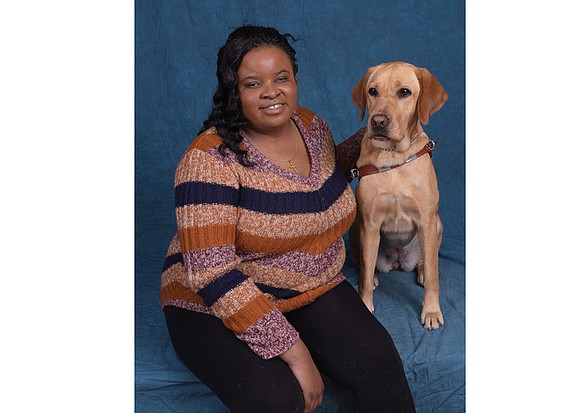 La'Teia Randolph is extra thankful this year.
The blind Richmonder now has a guide dog to help her get around — Della, a 2-year-old female Labrador retriever.
"It's so awesome. I no longer have to run into walls or hope someone is around to help if I get stuck," said Ms. Randolph, 27, a J. Sargeant Reynolds Community College student who lives in a Downtown apartment.
Ms. Randolph is benefiting from Guiding Eyes for the Blind, a New York-based nonprofit that has provided 7,000 blind people with dogs since 1954 at no charge. She spent three weeks at the organization's training center in Westchester County, N.Y., working with Della. She was among a class of eight people who were paired with dogs.
"It was intense," Ms. Randolph said. "We spent two days getting acquainted, and we worked from 6 a.m. to 9 p.m. daily on training."
Before flying home Nov. 12 with Della, Ms. Randolph said she and Della did a lot of walking in White Plains, the Westchester County seat.
"She still reacts to other dogs," Ms. Randolph said. "She is young and still learning. She only had four months of training before I got her. She knows the basics, but she can get distracted. I'm teaching her so she doesn't lunge at other dogs. And when she gets distracted, I tell her to stay on focus."
The good news, she said, is that Della "does not bark. But she does love to sniff. She keeps her nose to the floor. It's pretty funny."
The Williamsburg native lost her sight on her 22nd birthday. Headed to the beach, her life changed when her car was rear-ended on June 15, 2012. She dropped out of college and spent three years recovering from her loss of vision.
Tired of moping, Ms. Randolph began rebounding in 2015 when she enrolled in the rehabilitation center operated by the Virginia Department for the Blind and Vision Impaired on Azalea Avenue in Henrico County.
She learned how to navigate with a cane, how to read Braille and how to handle everyday chores, including cooking. She said she was surrounded by caring people encouraging her to become self-sufficient.
Her next goal, she said, is to earn a degree in psychology and one day have a private practice focused on helping people recover from trauma and life-changing events like she went through.
Now that Della is in her life, she said, she's more confident about achieving her goal.
She was inspired to apply to Guiding Eyes after meeting another woman who had a guide dog.

"She got around so quickly and quietly, I was envious," Ms. Randolph said. "I can do what I have to with a cane. But now that I have Della, I can do what I want to do. I no longer feel limited."