Personality: Bunny Sumner Young
8/2/2018, 6 a.m.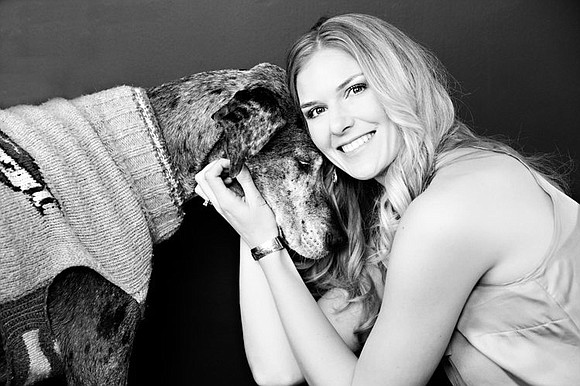 Bunny Sumner Young's journey with service animals started when she was a teenager.

"I was 14 years old when I was diagnosed with a heart condition. And at 17, I had a doctor that recommended that I get a service animal because I was on eight to 11 medications for my heart," she recalls.
"I shared with my physician, if she was not aware, that I wasn't deaf or blind, so why did I need a service dog."
That's when her education began about all of the tasks and jobs service dogs can perform and the fact that they can help mitigate disabled individuals' disabilities.

At 6-foot-3, Ms. Young needed a Great Dane as a cardiac assistant dog. Service Dog Project in Ipswich, Mass., the only organization that trains Great Danes in the United States, focuses on providing Great Danes for veterans and has a two-year waiting list.

"I applied and I got a rejection letter," Ms. Young says. "That's how I got involved with Pawssible Service Dog Connection."
Through a conversation with someone with a service dog, Ms. Young found out that anyone can adopt a dog and train it to perform the tasks needed to assist with an individual's particular disability.
"I looked into the law and saw that there was no law against doing your own training. So I went to a local rescue and found a Great Dane," Ms. Young says. "I figured what better way to help than to rescue a dog and give it a forever home and a forever job."
Ms. Young is now executive director and chair of the board Pawssible Service Dog Connection. The organization was founded in 2015 with four board members, including Ms. Young, with the idea of providing education, advocacy and resources for the community.
PSDC provides resources to train service dogs for people with disabilities; scholarships for people who can't afford the service animal training; and education for people adopting service animals and want to go to work.
PSDC goes into businesses to educate and train employers and employees on the "do's and don'ts" with a service animal, which takes that burden off of the person with the disability, as well as understanding the Americans with Disability Act. The effort is to assist in making service animals more welcome.
PSDC doesn't have any dogs, which keeps its overhead low. What it does have is a lot of relationships with trainers across the United States who can help owners train their service animals.
Animal shelters also can assist the "differently disabled," as she says, in finding the appropriate animals.
Gov. Ralph S. Northam issued a proclamation making Aug. 5 through 11 International Assistance Dog Week in the Commonwealth.
PSDC is using the time to kick off its 4th Annual Kibbles and Bids fundraiser 1 to 4 p.m. Sunday, Aug. 5, at Plant Zero in South Richmond. The goal is to raise $10,000.
Featured will be a dog contest, dog vendors, vendors of goods for people and a kids' corner by Glen Allen Montessori School.