Guns and churches: Local pastors caught between welcoming strangers, congregants' fears
11/24/2017, 12:26 p.m.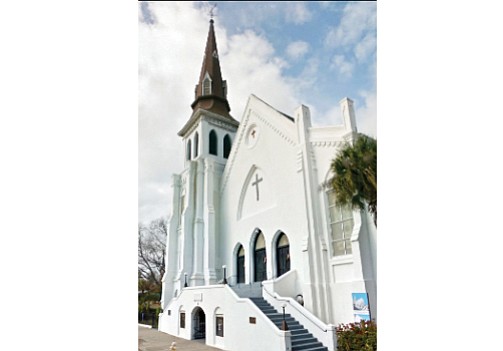 By Saraya Wintersmith
Pastor Preston R. Gainer is deeply perturbed. As violence dominates local and national headlines, he now is considering whether to arm himself and members of his East End church's safety team as part of St. James United Holy Church's security precautions.
"With the things going on in society now, it has been quite troubling," Pastor Gainer said following a church security forum last weekend sponsored by the Richmond Police Department.
Pastor Gainer admits he grew discouraged watching a recent television news report in the wake of the mass shooting in a church in Sutherland Springs, Texas, that ended with 26 people dead and 20 others wounded at the hands of a gunman with a history of domestic abuse. He said he was struck by the words of a woman who vowed to avoid church and, instead, study her Bible at home.
He, like many pastors, is grappling with the tough task of how to keep church open and welcoming, but also safe from those looking to inflict harm. He said he wants to alleviate his congregations' fears "and also alleviate the opportunity for someone to walk in" and catch worshipers off guard.
"I'm concerned about my parishioners and I have to be concerned about the people I don't know — the strangers. Are they coming to worship, or are they coming in to do us harm?"
African-American churches have long been targets for violence, several pastors pointed out. They recalled the deadly June 2015 shooting at historic Emanuel A.M.E. Church in Charleston, S.C., in which a white supremacist opened fire after sitting through a weeknight Bible study, killing the pastor and eight members of the church. They also pointed to the September 1963 bombing of a church in Birmingham, Ala., by Ku Klux Klan members, killing four little girls during Sunday services.
It's a scary situation, Pastor Gainer said, but "it's the climate that we live in today."
Heavy on the minds of more than 200 faith leaders and congregants attending last Saturday's police forum was formulating plans for, or shoring up responses to, potential attacks and emergencies at places of worship.
Under Virginia law, anyone who carries a weapon into a place of worship "without good and sufficient reason" can be charged with a Class 4 misdemeanor. While one presenter advised that churches have discretion to determine whether to allow guns on their property, faith leaders were encouraged to seek legal advice when formulating gun policies.

Special Agent Austin C. White of the Virginia State Police walked the audience through a congregation safety presentation. He showed a series of slides with pictures of a man with a camera, a dark figure in a hat and trench coat, and a bundle of dynamite attached to an alarm clock and asked whether they seemed suspicious. He then encouraged communication with local law enforcement agencies and erring on the side of caution when spotting something suspicious.
"I would much rather get 100 calls that mean absolutely nothing than miss the one where somebody could get hurt," he said, alluding to a bomb scare over a $1 novelty alarm clock shaped like dynamite that caused a stir earlier this year in Henrico County. "That's what you pay us for. That's what you expect from us. That's what we hope to be able to give to you."