Folk Festival to 'feed your soul' this weekend
10/13/2017, 6:59 p.m.
Music and culture from around the globe will highlight the 13th Annual Richmond Folk Festival.
The three-day event, from Friday, Oct. 13, through Sunday, Oct. 15, has the theme "Feed Your Soul."
Served up will be 36 performers for every taste — from bluegrass and gospel to Japanese talko drumming and Persian tar and setar, Romanian cimbalom, Peruvian, Irish, Northern Indian Khyal singing, New Orleans brass and zydeco music.
The free festival, produced by Venture Richmond and the National Council for the Traditional Arts, will stretch from 2nd to 7th streets south of Byrd Street to Brown's Island.
Performances will run from 6 until 10 p.m. Friday, Oct. 13, noon to 9:30 p.m. Saturday, Oct. 14, and noon to 6 p.m. Sunday, Oct. 15.
More than 100,000 are expected for the festival that will feature seven stages, a crafts marketplace, and food and cooking demonstrations of cuisine from across the state and the globe. Food and beverage vendors also will be throughout the venue.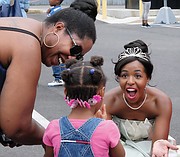 The CarMax Family Area and Stage will feature entertainment geared toward youngsters, including the Northern Neck Chantey Singers performing the work songs unique to menhaden fishermen along the East Coast. Children also can create sea art projects and learn about aquatic life and play beach games in Aquatic Adventures.
The Virginia Folklife Stage will feature a variety of noted performers from across the commonwealth, including Big G of Southern Soul, "From Africa to Appalachia: Malian n'goni meets American banjo" and gospel musicians Cora Harvey Armstrong and The Legendary Ingramettes.
During the week leading up to the festival, master musicians and artists will visit schools in Metro Richmond, sharing their talents and stories to inspire young people. Artists also will visit the Richmond Justice Center for two performances.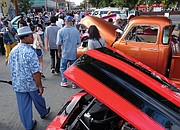 The National Park Service Civil War Visitor Center at Tredegar Iron Works, located at the center of the festival site, will be showing documentary films on a variety of topics from noon to 5 p.m. Among the films, "Carry On: The Life and Legacy of Maggie Lena Walker," a 21-minute orientation to the pioneering Richmond native who was the first African-American woman in the nation to charter and operate a bank.
The National Park Service Visitor Center and the American Civil War Museum have waived admission fees and extended their hours from 9 a.m. to 6 p.m. during the festival.
Free parking with free shuttles are available from City Stadium, 3201 Maplewood Ave. Paid parking is available in lots and decks throughout Downtown.
Details: www.richmondfolkfestival.org