Trio blends Bach, Brubeck and Kanye
10/19/2017, 6:35 p.m.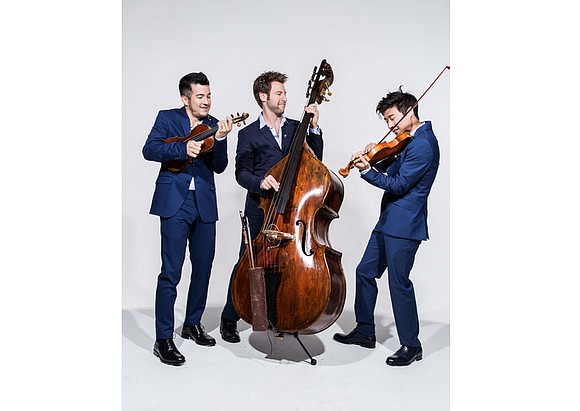 The Richmond Symphony continues its 60th anniversary celebration with music by Time for Three in an 8 p.m. concert Saturday, Oct. 28, at the Dominion Arts Center's Carpenter Theatre.
Time for Three is composed of violinists Nicolas Kendall and Charles Yang, and double bassist Ranaan Meyer. With a mix of virtuosity and showmanship, the trio performs music from Bach to Brahms, along with their own originals and arrangements that include bluegrass, folk tunes and mash-ups of hits by The Beatles, Kanye West, Katy Perry and Justin Timberlake.
The trio will perform music by Béla Bartók, Steven Stucky and a work commissioned from Chris Brubeck titled "Travels in Time for Three." The concert also will feature Mr. Bartóks' beloved showpiece "Concerto for Orchestra."
Tickets start at $10 for adults and are free for children under 18.
Also, on Friday, Oct. 27, Time for Three will present a special Dominion Energy Casual Friday performance that includes selections from the Masterworks program. The performance begins at 6:30 p.m. and is $15.
For more information, please call (804) 788-1212 or visit richmondsymphony.com.