Hurricane Harvey devastates Texas; blasts into Louisiana
9/1/2017, 7:35 a.m.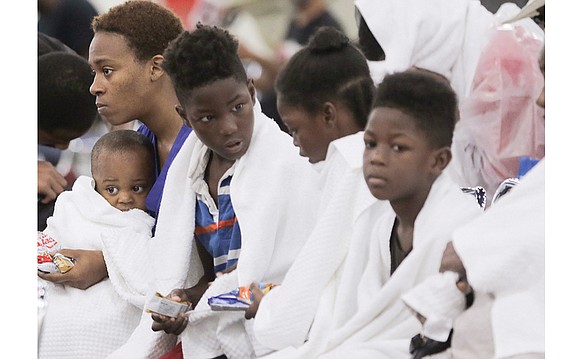 Free Press staff, wire report
More than 10,000 people — an overflow of evacuees — have sought refuge in the Houston Convention Center in the aftermath of Hurricane Harvey, which struck the Texas Gulf Coast last Friday, leaving the nation's fourth largest city and its surrounding communities in a flood of devastation.
On Wednesday, the Category 4 hurricane that was downgraded to a tropical storm, had lingered for days over a swath of Southern Texas, where it breached levees and meandered back into the Gulf of Mexico. It then headed to Louisiana, where it made landfall about 4 a.m. just west of Cameron, La., with maximum sustained winds near 45 mph.
Officials said 38 people have been confirmed dead, more than 31,000 people are in shelters run by the Red Cross across Texas, with thousands more expected to seek shelter before it's all over.
Numerous localities have been devastated, with homes and businesses destroyed or flooded, and rescues resembling those of Hurricane Katrina in New Orleans in 2005 being made by helicopter and boat.
Stories of heroism and harrowing struggles have dominated news reports as elderly, the infirm and families with children desperately seek safety. A family of six — four children and their grandparents — perished when the van they were in sank under floodwaters as they tried to flee.
A Houston police officer also died when his car was engulfed in water while he was on his way to work.
More than 14,000 members of the National Guard have been mobilized to assist with evacuations in rainfall that has reached a record 49 inches. Weather forecasts call for even more heavy rains for the remainder of the week.
Officials were battling breached levees in several localities, while Louisiana officials have called for mandatory and voluntary evacuations in the Lake Charles region, which was struck by Hurricane Katrina 12 years ago.

"Since the shelter opened early Sunday morning, I've seen throngs of survivors coming in, people who have barely the clothes on their backs, soaking wet, their belongings in their hands," Texas Congresswoman Sheila Jackson Lee told CNN on Tuesday. "But they're resilient, they have faith, they're looking for a future. And they believe that they're going to get help.
"That's an important message for those who now have nothing," she continued. "We now have an obligation to commit to them — that they will have a future and that the resources will come."
Rep. Lee said after conversations with rescue workers, volunteers and others in charge of the rescues, the key issue was to continue focusing on getting people to safety. She said there are still "certain pockets in this community where we need to continue to rescue people."
On Tuesday, President Trump and First Lady Melania Trump flew into Corpus Christi and Austin to talk with officials and survey some of the damage that experts have estimated between $30 billion to $150 billion across Texas. The White House said the president didn't fly closer to the worst hit areas in Houston because he didn't want to detract from rescue efforts.