Revenge may be factor in VSU-NSU Labor Day Classic
Fred Jeter | 9/1/2017, 9:53 a.m.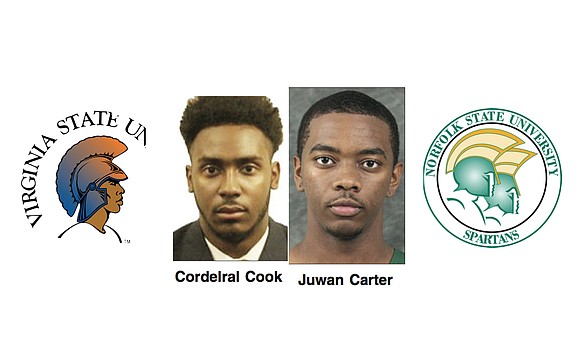 There is no shortage of spicy story lines for the Labor Day Classic on Saturday, Sept. 2, matching old foes Virginia State and Norfolk State universities at Dick Price Stadium in Norfolk.
Let's start with the revenge factor.
While at VSU, Coach Latrell Scott logged two stellar seasons — a 19-3 record, a CIAA title and NCAA bid — before leaving for the higher profile, higher-paying coaching job at NSU in 2015.
Fair-minded observers could hardly blame Coach Scott for taking the career upward trajectory.
Still, there are likely many blue and orange-clad Trojans fans seeking payback for the perception Coach Scott used VSU as a stepping stone to another HBCU just two hours down the highway. This will be the schools' first meeting on the gridiron since 2012. 
It's also a factor that both schools court many of the same players, especially in Hampton Roads and the Richmond area, so Coach Scott's change of coaching addresses tilted the recruitment landscape in NSU's favor to some degree.
Coach Scott is coming off back-to-back 4-7 marks and there is pressure to produce in his third season now with a team filled mostly with his own recruits.
Meanwhile, VSU was 9-2 last season under Coach Reggie Barlow and seems capable of springing an upset. A rousing road victory over a MEAC school would do much to enhance VSU's playoff chances.  
It gets even more interesting.
NSU's associate head coach under Coach Scott is none other than Andrew Faison, who was VSU's head coach the 10 years prior to Coach Scott's arrival.
Then there is the mysterious quarterback situation. Both squads will be breaking in essentially brand new quarterbacks to open the campaign.
At NSU, Coach Scott must replace two-year starting quarterback Greg Hankerson. Candidates include freshman Juwan Carter, who last fall guided Henrico County's Highland Springs High School to the State 5A title.
VSU is looking for a new quarterback following three seasons of Tarian Ayres taking most of the snaps. Cordelral Cook, a transfer from Alabama State University, Coach Barlow's former school, is vying for the starting job, along with former Hermitage High School standout Niko Johnson.
VSU senior tailback Trenton Cannon, nicknamed "Boom," is the athlete who might be most noticed. The dynamic Hampton native rushed for a school record 1,214 yards last season and is in position to challenge George Leonard's career mark of 3,575 yards.
Also, with 27 career rushing touchdowns, Cannon is aiming at Bo Morgan's school standard of 41.
NSU's top returning ground gainer is Quintreil Chung, a junior from Chesterfield County's James River High. Joining the Spartans from another Chesterfield County school, L.C. Bird High School, is 235-pound Shadrick McCall.
As a Bird senior, McCall rambled for a whopping 2,280 yards and 38 touchdowns.
To older fans, it will always be "Big State" (VSU) versus "Little State" (NSU) when Virginia's two state-supported HBCU's tangle.
"Big State" traces its founding to 1882, while "Little State" was founded in 1935 as the Norfolk unit of Virginia Union University. In 1944, it became part of Virginia State College before becoming fully independent in 1969.
VSU and NSU battled as NCAA Division II rivals in the CIAA until 1997, when Norfolk moved to the FCS MEAC. There is a sizable difference in financial commitment. FCS allows 63 football scholarships, while the Division II limit is 36.     
VSU leads the overall series between the two schools 26-20-1, but NSU has won the last six matchups.
So, numbers aside, who is this year's favorite?
No Labor Day Classic conversation would be complete without mention of NSU's Marching Spartan Legion and the VSU Trojan Explosion Marching Band. The bands will compete in a Battle of the Bands at 7 p.m. Friday, Sept. 1, at NSU's Joseph G. Echols Memorial Hall.
On the field, nothing rouses the Labor Day crowd more than the much-anticipated public address announcement — "Behold, the Green and the Gold!" — moments before the NSU band cranks up its music.
There's a popular saying that NSU is "undefeated at halftime."
What might happen before and after intermission Saturday in Norfolk is the more difficult question.