VSU wins Labor Day Classic before crowd of 10,000-plus in Norfolk
9/7/2017, 11:39 p.m.
Virginia State University continues knocking out its football opponents — even those in a larger division.
Under Coach Reggie Barlow, the Trojans beat Norfolk State University 14-10 last Saturday before a crowd of 10,221 fans at the Labor Day Classic in damp Dick Price Stadium.
On this occasion, VSU, an underdog on paper, was top dog on the field.
VSU competes in the CIAA, which is in NCAA Division II (36 scholarships allowed), while NSU competes in MEAC, the NCAA Division I Football Championship Subdivision (63 scholarships max).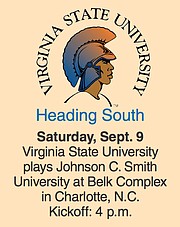 The Spartans had won the previous six meetings between the HBCUs.     
Last Saturday's matchup was a bit personal as VSU delivered a proverbial black eye to NSU Coach Latrell Scott.
Coach Scott left VSU three years ago for the better-paying post at NSU in the higher-profile conference. NSU went 4-7 in each of Coach Scott's first two seasons at NSU. And the Spartans' problems could get worse before they improve. The Spartans play host to the College of William & Mary — a school they have never defeated — on Saturday, Sept. 9. NSU then travels to Harrisonburg on Saturday, Sept. 16, to take on James Madison University, the FCS national champion.
Meanwhile, VSU feels like it has wings on its muddy cleats as it prepares to play CIAA rival Johnson C. Smith University Saturday, Sept. 9, in Charlotte, N.C.
Among the nation's hottest Division II programs, VSU was 9-2 a year ago in Coach Barlow's first season.
The Trojans finished the season with four rousing victories — 69-7 against Lincoln University, 49-21 against Chowan University, 48-21 against Virginia Union University and 45-35 against Tuskegee University.
VSU's last defeat was Oct. 15, 2016, when the Trojans blew a 14-point lead in a 38-37 loss at Bowie State University.
In the Labor Day Classic in Norfolk, VSU dominated the statistics more than the scoreboard. The Trojans had 19 first downs to the Spartans' 10 and forced eight NSU punts.
VSU rushed for 190 yards compared to NSU's 98 yards.
NSU's lone touchdown came when Nigel Chavis, a sophomore linebacker from Richmond's Armstrong High School, recovered an end zone fumble.
VSU quarterback Cordelral Cook scored on two short runs and Trenton Cannon negotiated the wet surface for 145 yards on 26 carries. Cook is a transfer from Alabama State University, where Coach Barlow coached before coming to VSU.
The game was thrilling to the finish.
Behind freshman quarterback Juwan Carter from Highland Springs High School in Henrico County, NSU drove to VSU's 34 yard line in the closing minute.
But defensive back Quincy Watts from Virginia Beach intercepted a Carter pass to ensure the visitors a triumphant ride back to Ettrick.
It was VSU's first victory over NSU since 2005. 
College football can be a small world sometimes.
In Charlotte, VSU likely will face the Golden Bulls' junior quarterback Terrance Ervin from L.C. Bird High School in Chesterfield County. Ervin led Bird High to back-to-back Division 5 state titles and played at Norfolk State and Louisburg Junior College before transferring to Johnson C. Smith.
The 6-foot-4 Ervin passed for 228 yards and ran for 57 yards in Johnson C. Smith's season opening 38-18 loss to Wingate University.
On Saturday, Sept. 16, VSU will open its home season against defending CIAA champion Winston-Salem State University in what could be a preview of the CIAA championship game in November.