VSU looking for first win after bowing to NSU in Labor Day Classic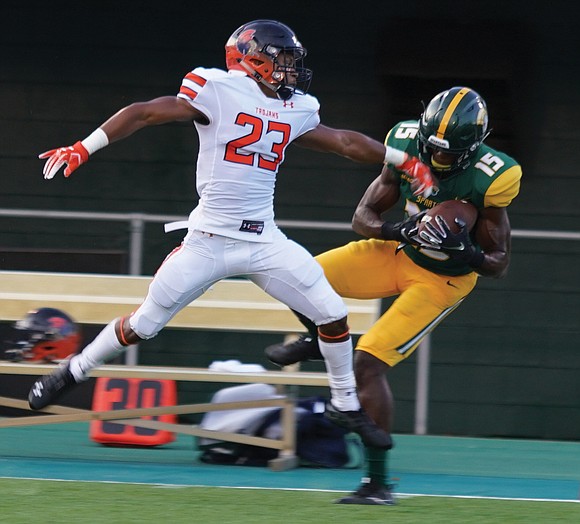 On the road again
Saturday, Sept. 8
Virginia State University plays at Robert Morris University in Moon Township, Pa.
Kickoff: Noon.
There's good news and not so good news regarding Virginia State University football.
The uplifting news is that 2017 VSU sensation Trenton Cannon appears to have made the NFL New York Jets' 53-man roster.
The discouraging news is that VSU is still looking for someone to replace Cannon, the Trojans' all-time ground gainer.
The Trojans had too many penalties (13 for 137 yards) and too few rushing yards (82 for 27 carries) in VSU's 34-13 loss to Norfolk State University last Saturday in the Labor Day Classic.
Demetrius Strickland, a sophomore from Hampton (the same hometown as Cannon), ran 14 times for 40 yards, but it wasn't nearly enough as NSU dominated the game's second half.
Another candidate is former L.C. Bird High School All-State Stephen Mines, who picked up 11 yards on two carries against the Spartans.
As is usually the case in college football, the school with the higher NCAA classification prevailed.
NSU, a member of the Football Championship Subdivision, had 26 first downs to 14 for VSU, a CIAA, NCAA Division II team, and 361 total yards to 267 for the visitors from Ettrick.
Now VSU Coach Reggie Barlow's squad is in danger of falling to 0-2 with a tough trip to Robert Morris University near Pittsburgh on Saturday, Sept. 8.
Morris University, which is 0-1 after an opening loss at the University of Dayton, will be VSU's second straight FCS opponent. The Colonials compete in the Northeast Conference. Morris University's basketball team has appeared in the NCAA Division I tournament eight times.
The Trojans had better get used to bus rides. VSU stays on the road to face St. Augustine's University on Saturday, Sept. 15, and Johnson C. Smith University on Saturday, Sept. 22, before returning to Ettrick and making its Rogers Stadium debut on Saturday, Sept. 29, against Shaw University.
Defeats have been rare in Ettrick during the past two years. The Trojans are coming off one of their best seasons in history. VSU won the CIAA title a year ago and finished 10-1, with the lone loss in the NCAA playoffs.
The Trojans are 19-4 under Coach Barlow in two seasons plus one game.
Returning quarterback Cordelral Cook completed 14 of 26 passes for 170 yards, with a first quarter touchdown to Tre'Quan Reed. Cook suffered two costly interceptions.
Meanwhile, Coach Barlow will continue to experiment with different ball carriers in hopes of discovering the next Cannon.
Consider: Cannon wasn't hailed as a superstar when he arrived at VSU after transferring from Shepherd University. He continuously improved in the Trojans' orange and blue, eventually becoming CIAA Offensive Player of the Year as a senior.  
During the Jets' four exhibition games, Cannon, a fifth round NFL draft pick, led the team in rushing (27 carries for 92 yards), was tied for first in receiving (seven catches for 35 yards) while also sparkling as a punt and kickoff returner.
Wearing No. 40, the athlete known as "Boom" had a 31-yard punt return in the exhibition finale against Super Bowl champion Philadelphia Eagles.
The Jets open their regular season on Monday, Sept. 10, at Detroit against the Detroit Lions. The game starts at 7:10 p.m., and will be broadcast on ESPN.
The Jets' depth chart has Cannon listed third at tailback.
The last Trojans to play in the NFL were defensive end Kelvin Kinney with Washington in 1997 and 1998, and offensive tackle James Brown, who played with the Jets, the Miami Dolphins and the Cleveland Browns in a pro career spanning 1993 to 2000.