VSU's rushing attack seals victory over UNC-Pembroke; match with St. Augustine's this Saturday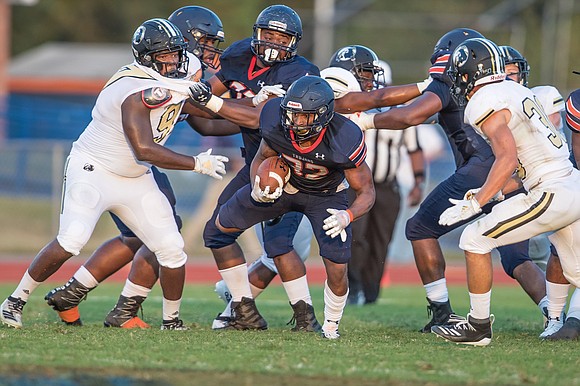 Two seasons ago, Virginia State University featured the CIAA's premier running back in Trenton Cannon, who is now with the NFL's New York Jets.
Last Saturday, it looked almost like Cannon had returned to Ettrick for a curtain call.
In fact, it kind of looked like two Cannons.
The double-barreled rushing attack of Darius Hagans and Demetrius Strickland spurred the Trojans to a convincing 35-16 victory over visiting University of North Carolina at Pembroke at Rogers Stadium. VSU Coach Reggie Barlow will surely rely on both backs this Saturday, Sept. 21, as VSU travels to Raleigh, N.C., to face CIAA opponent St. Augustine's University. The St. Augustine Falcons lost their first two games to Lenoir-Rhyne University (68-7) and Mars Hill University (46-14). The team is coming off a 2-7 record in 2018.
The VSU-St. Aug's game a year ago was canceled because of Hurricane Florence.
With Cannon now playing professionally on Sundays, VSU welcomes a rebirth of a powerful ground game — something lacking a year ago. Corderal Cook was the primary rushing threat in 2018, often improvising on pass plays.
Last Saturday, Hagans, a freshman from Grassfield High School in Chesapeake, raced for 134 yards and also caught a 55-yard touchdown pass from Cook.
Strickland, a sophomore from Hampton — Cannon's home- town — added 120 yards, including a 25-yard touchdown.
Cook, who added 67 yards rushing, provides the Trojans with run-throw options every play. Cook ranks with the most accomplished run-pass quarterbacks in the CIAA and all of NCAA Division II.
Overall, VSU rumbled for 374 yards rushing on 33 carries against Pembroke.
Defensively Na'Shawn Reid-Carlos led with 10 tackles. The sophomore hails from nearby Petersburg High School.
St. Aug's Coach Tim Chavous has worn his share of Trojans' orange and blue. Chavous served as the VSU running backs coach in 2003-04.

On the road again
Virginia State University plays at St. Augustine's University in Raleigh, N.C., on Saturday, Sept. 21. Kickoff: 1 p.m.