VSU Trojans have more losses now than last season
Postponed
Saturday, Sept.15 The Virginia State University game against St. Augustine's University at George Williams Athletic Complex in Raleigh, N.C. , is postponed.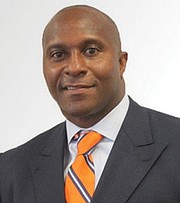 The journey continues.
The third leg of what has been a disappointing Virginia State University opening, four-game football road trip now leads to Raleigh, N.C.
The Trojans, who were scheduled to face CIAA opponent St. Augustine's University on Saturday, Sept. 15, are in dire need of a victory following a disheartening 22-19 loss at Robert Morris University in the Pittsburgh suburbs.
VSU, now 0-2, has lost more games in two weeks than it did all last season when it won the CIAA title and advanced to the NCAA Division II playoffs. VSU finished 10-1 in 2017.
Both Trojans defeats, starting with Norfolk State University in the Labor Day Classic (34-13), have been to members of the Football Championship Subdivision, or FCS, which is one peg higher than the CIAA.
Special teams failures were the difference at Robert Morris University. The Trojans missed two extra points and three field goals, including a 21-yard attempt on the final play that was blocked.
Led by dual-threat quarterback Cordelral Cook, VSU outgained the Colonials 444-303 yards. Cook was sensational, passing for 180 yards and rushing for 182 yards on 25 carries.
Coach Reggie Barlow's Trojans led 19-7 early in the fourth quarter before things began to unravel.
Demetrius Strickland added 82 yards on 25 carries and Josh Harris had seven receptions for 89 yards.
Kurtis Brooks had nine tackles and an interception for VSU, while Alexander Williams had one and a half sacks. Vincent Parker and Diontae Bruce added Trojans interceptions.
St. Augustine's has suffered similar misfortune with two road losses to FCS opponents. The Falcons lost at Jacksonville University in Florida 63-14 on Sept. 1 and this past week at North Carolina Central University, 51-14.
St. Augustine's and VSU last played in 2015, with the Trojans winning 24-0 in Ettrick.
The Trojans will keep the bus warm following the trip to Raleigh.
VSU will travel to Johnson C. Smith University in Charlotte, N.C., on Saturday, Sept. 22, for its fourth straight road game before returning to Rogers Stadium in Ettrick for its home opener against Shaw University on Saturday, Sept. 29.