VUU to play 7 N.C. schools this football season
6/19/2015, 3:14 p.m.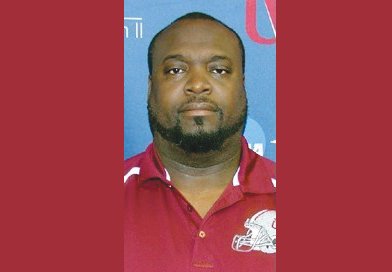 Virginia Union University's 2015 football schedule could be billed as the Panthers versus North Carolina.
VUU has seven games against teams from North Carolina universities, including its first five opponents.
Both of the Panthers' non-CIAA games are with North Carolina schools, in addition to the five of the 10-game docket against CIAA foes located in North Carolina.
VUU opens Sept. 5 against Brevard College of Brevard, N.C., at Hovey Field. The Panthers travel Sept. 19 to Gardner-Webb University in Boiling Springs, N.C.
Brevard is a member of the NCAA Division II South Atlantic Conference. VUU played Brevard once previously, winning 31-21 in 2012.
Big South Conference member Gardner-Webb is aligned with the NCAA Division I Football Championship Sub-Division (FCS).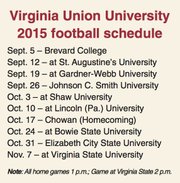 VUU played Gardner-Webb twice before, winning 28-15 in 2001 and losing 22-20 in 2000.
Sandwiched between Brevard and Gardner-Webb games is a trip to Raleigh, N.C., to face St. Augustine's University of the CIAA. The Eagles replaced Fayetteville State University from the 2014 slate.
VUU will travel to Raleigh a second time Oct. 3 to meet CIAA rival Shaw University.
The Sept. 26 Hovey Field game against Johnson C. Smith University will be a homecoming of sorts for first-year Golden Bulls Coach Kermit Blount.
The former Armstrong High School athlete has coached the past four years at Delaware State University before moving to the Carolina coaching job.
VUU will celebrate its own homecoming Oct. 17 against CIAA foe Chowan University.
VUU was 7-3 last fall under first-year Coach Mark James. The Panthers were contenders for the Northern Division title until its final game loss to Virginia State University at Hovey Field.
The Panthers will close the 2015 regular season against the VSU Trojans in Ettrick.
The CIAA championship game is slated to be played Nov. 14 in Durham, N.C.
VUU is playing so many North Carolina schools in part because the CIAA has lost three Virginia affiliates since the late 1990s.
Longtime VUU foes Norfolk State and Hampton universities left the CIAA for MEAC and St. Paul's College in Lawrenceville closed.