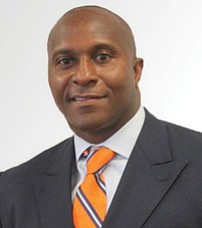 Coach Reggie Barlow
Stories this photo appears in:

Virginia State University has won five straight games with a relatively soft schedule. On Saturday, Oct. 19, easy street ends.

Coach Reggie Barlow's first two seasons at Virginia State University resembled a smooth ride with a finely tuned engine. Last season was more like smoke steaming from the hood.
The journey continues. The third leg of what has been a disappointing Virginia State University opening, four-game football road trip now leads to Raleigh, N.C.