Fresh start for first day
Improved George Mason Elementary rolls out red carpet for its students
9/7/2017, 9:16 p.m.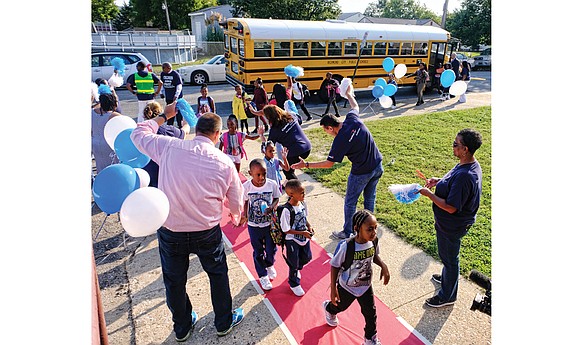 Later in the day, Mr. Kranz received praise from School Board Chairwoman Dawn Page and other board members for the improved conditions at George Mason.

Overall, he said, things went smoothly on the first day of school, although there were a few hiccups. One example: The fan in an air conditioning chiller at Blackwell Elementary School broke. He said the conditions inside the South Side school are being monitored, and that a rush has been put on getting replacement equipment to get the chiller back in operation.
Mr. Kranz said that when it comes to school facilities and their operation, the whole issue comes down to the amount of dollars that City Council provides. He said George Mason should have been receiving an average of $38,000 a year for maintenance, but instead was making do with an average of $12,000 a year.
That's the reality for all the school buildings, he said. The city, which provides the money, has fallen short of meeting the needs.
"We have 4.8 million square feet of building space to maintain," Mr. Kranz said, noting that RPS receives about one-third of the money needed, or enough to maintain about 1.5 million square feet.
He said the school system overall has to make do with $5.5 million a year instead of the $17.3 million that a fully funded maintenance plan would provide.
He urged the School Board to be cautious about making any promises to replace buildings until it completes the comprehensive facilities plan that is due in October to present to the mayor and the council, who then would bear the responsibility for finding the money to implement the plan.
"As a school district, we are going to focus on strengthening and improving our weaknesses," he said after greeting students and leading reporters on a tour of George Mason. "We have to provide a great education each and every day to all of our students."
Free Press writer Jeremy M. Lazarus contributed to this article.