RPS Shines volunteers add sparkle to Fairfield Court Elementary School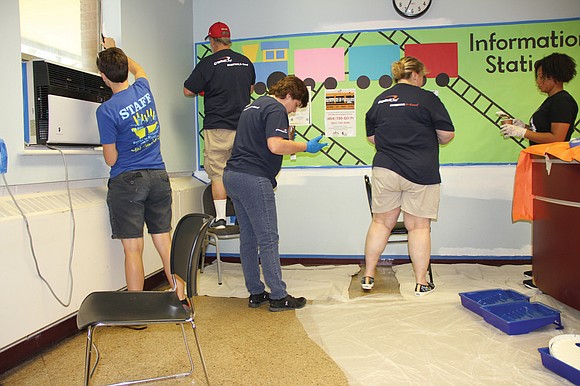 Richmond's Fairfield Court Elementary School got a big boost on Wednesday.
A cadre of 41 volunteers from Capital One's leadership program flocked to the East End school from Richmond, Northern Virginia, Maryland and five other states, including Texas, to paint, scrub, landscape and generally spruce up the building and grounds as part of RPS Shines 2019.
"This is a strong effort to give back and be a part of the community, especially to support children," said Susie Kondracki of Richmond, who leads Capital One's commercial risk management team. Her mother, she said, was a schoolteacher for 30 years in Fairfax County. "We hope (Fairfield Court Elementary students) will see how much people care about them and realize education is the most important thing," she said.
This is the second year for RPS Shines, a volunteer effort launched by Richmond Public Schools officials to help make city schools more welcoming and attractive for the city's 24,700 students, as well as for teachers and staff. It kicked off Saturday and goes through Aug. 17. Superintendent Jason Kamras launched the program last year in an attempt to engage the community in helping to ameliorate the problems at old and decrepit Richmond schools. There are beautification days, bathroom blitzes and community mural efforts. Schools are paired with a community partner, such as Capital One, to organize school libraries, paint walls, pull weeds, plant flowers and pick up trash.
This year, 10 schools have been designated to receive cleaning, painting, landscaping, electrical work and plumbing upgrades under RPS Shines.
"The school system prioritizes and puts a lot of money into facilities — big budget items like new boilers, chillers, air conditioners and roofs," Mr. Kamras said. But RPS Shines, he said, "is in response to people asking how they can help. Many are not able to write checks, but are willing to plant flowers or paint or just do the things needed to get schools ready for the coming year."
So far, 600 volunteers and 32 organizations have signed up to help with RPS Shines, officials said. Natasha Henderson, vice principal at Fairfield Court Elementary, said students were excited when they returned last fall to see bathrooms upgraded and clean through the handiwork of volunteers. She said that it motivated the youngsters to keep the school clean throughout the year. Officials said more than 1,000 people and 75 organizations participated in the effort last year.