Volunteers sought for city school cleanup blitz RPS Shines 2019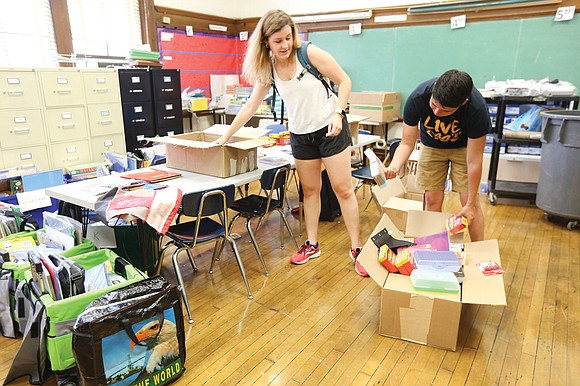 Wanted: Volunteers to spruce up city schools.
Richmond Public Schools Superintendent Jason Kamras has issued a call for volunteer help to parents, students, RPS staff and community supporters in launching RPS Shines 2019.
The effort begins shining Saturday, July 13, with volunteers to provide a day of service at nine schools. Similar volunteer efforts will take place almost daily through Saturday, Aug. 17, at RPS' 44 schools.
More than 1,000 individuals and 75 partner organizations donated time at last year's successful inaugural RVA Shines effort. Volunteers painted interior walls, planted flower beds, fixed bathrooms and helped with other tasks to beautify and clean buildings.
Along with general volunteers, Mr. Kamras stated he is seek- ing volunteers to continue fixing up school bathrooms, including plumbers, electricians, painters and deep cleaners and those with expertise in those fields.
He also announced that local artists would be joining with community groups to create murals in some schools.
RPS has tapped the Community Foundation's volunteer co- ordinating group, HandsOnRVA, to get a handle on the number of people willing to volunteer at each of the schools. However, volunteers can show up and pitch in on the designated day for a specific school, Mr. Kamras indicated.
Details and advance registration: www.HandsOnRVA.org.
A schedule of the times and days volunteers are needed at the various schools is listed on that website under "RPS Shines" or contact (804) 330-7400.
Information also is available from RPS staff member Grady Hart at (804) 780-7100 or GHart@rvaschools.net.
Monetary contributions toward the beautification and mural effort may be made through the Richmond Public Schools Education Foundation at RPSeducationfoundation.org.
RPS Shines Cleanup Lineup
Below are the schools and times for the RPS Shines cleanup on Saturday, July 13:
• Albert Hill Middle, 3400 Patterson Ave., 9 a.m. to noon.
• Armstrong High, 2300 Cool Lane, 1 to 4 p.m.
• Barack Obama Elementary, 3101 Fendall Ave., 1 to 4 p.m.
• Carver Elementary, 1110 W. Leigh St., 1 to 4 p.m.
• George Wythe High, 4314 Crutchfield St., 1 to 4 p.m.
• J.L. Francis Elementary, 5146 Snead Road, 9 a.m. to noon,
• Martin Luther King Jr. Middle, 1000 Mosby St., 9 a.m. to 4 p.m.
• Oak Grove-Bellemeade Elementary, 2409 Webber Ave., 9 a.m. to noon.
• Southampton Elementary, 3333 Cheverly Road, 8 to 11 a.m.