Howard Bison overrun by UR Spiders
Fred Jeter | 9/22/2017, 9:46 p.m.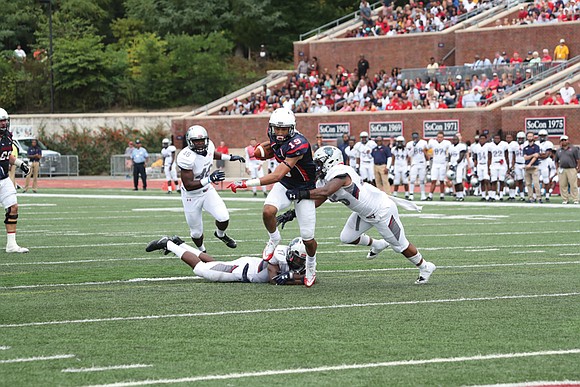 Coach Mike London has found it is far easier coaching football for the University of Richmond than coaching against UR.
In his return to the West End campus last Saturday, Coach London's Howard University squad was trampled 68-21 before 8,217 mostly Spiders fans at UR's Robins Stadium.
The Bison departed without so much as a "what if?"
It was classic mismatch, and worse than expected considering Howard's headline-grabbing, season-opening upset victory at the University of Nevada-Las Vegas two weeks prior.
UR proved a more dicey venue than Vegas for the visiting team.
The host Spiders led 48-7 at halftime and 61-14 after three periods. UR quarterback Kyle Lauletta threw for a school record six touchdowns before being relieved early in the third period. It could have been much worse.
UR, with little resistance by the Bison, collected 31 first downs and 622 total yards. Bison freshman quarterback Caylin Newton, brother of NFL star Cam Newton, was offered little time to throw or room to run.
Coach London, a former UR defensive back, has sparkling memories of Richmond's as a player and a coach. As UR coach in 2008 and 2009, he posted a 24-5 record that featured the 2008 FCS championship.
Coach London advanced to coach at the University of Virginia from 2010 through 2015. Last season, he was an assistant coach at the University of Maryland.
Regardless of who is coaching, schools from the historically African-American MEAC conference have fared poorly against programs aligned with the juggernaut Colonial Athletic Association. Since 1998, CAA schools have won the FCS national title six times, including James Madison University, which won last season.
MEAC is also under the FCS umbrella, but has had virtually no success in the postseason tournament.
Coach London shouldn't take his latest defeat too personally. Last year, UR bombarded another of its ex-coaches, Latrell Scott, 34-0, with Coach Scott returning to the UR campus as the head coach for Norfolk State University.
Coaches London and Scott shared CAA road misery last Saurday. In Harrisonburg, JMU annihilated Coach Scott's Spartans 75-14.
MEAC and CAA schools rarely met on the gridiron until recently. Often the cause for mingling is mandated by FCS (formerly known as 1-AA) playoffs.
Postseason dominance started in 2005 with UR defeating Coach Joe Taylor's Hampton University Pirates 38-0.   
In 2014, UR beat MEAC champ Morgan State University 46-14 in the first round of FCS playoffs. A year ago, UR beat MEAC's North Carolina A&T State University 39-10 in the FCS playoffs.
Like most MEAC schools, Howard plays a disproportionate amount of early games on the road, generally for financial guarantees. Now 1-2 — the Bison lost at Kent State University on Sept. 9 — Howard returns home to Washington to face MEAC rival Bethune-Cookman University at 1 p.m. Saturday, Sept. 23. Howard's remaining scheduled games all will be against MEAC opponents.
The MEAC champion will advance to the 3rd Annual Celebration Bowl on Dec. 6 in Atlanta to face the SWAC champion. Other MEAC schools are eligible for the FCS playoffs.