Nuns rock like no others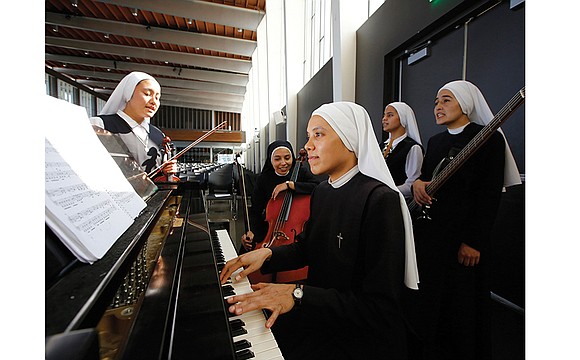 Free Press wire report
GARDEN GROVE, CALIF.
Eleven nuns take the stage wearing traditional black-and-white habits but are anything but old school as they belt out songs to the ringing of an electric guitar and a rock 'n' roll beat.
Known as Siervas, the band was born in a Peruvian convent three years ago and now travels far and wide to perform.
Of all the extraordinary things about Siervas, the most remarkable may be that the band is not just a novelty. It has a genuine international following.
The band's songs of love and faith have earned more than a million YouTube views and led to the release of two CDs. Now the nuns are waiting to see if they are among the honorees when Latin Grammy nominations are announced this week.
Siervas recently traveled to Southern California and drew 4,000 people when the band headlined a Spanish-language Catholic music festival.
"Everyone was calling our office, saying, 'We want to see these nuns. When are they singing?' " said Ryan Lilyengren, spokesman for the Roman Catholic Diocese of Orange, which organized the event. "They're sharing their message in a way people are willing to hear it."
The nuns, who come from eight countries and range in age from their 20s to 40s, insist they aren't rock stars. But they certainly act the part when on stage performing to the electric guitar, steady drumbeat and catchy lyrics, uniformly smiling as silver crosses hang around their necks.
The name Siervas — Spanish for "the servants" — comes from the convent where the band was formed and still lives.
At first, the members composed and played music together as a hobby after spending days praying with incarcerated women and the poor in Peruvian shantytowns.
When Siervas had enough original music, the band compiled a CD. That led to a concert performance that attracted local media attention in Peru and then invitations to perform in nearby Colombia and Ecuador. Interest skyrocketed on the internet and the group released a second CD.
Now, members rehearse together twice a week, melding upbeat lyrics with Latin pop and rock. Each nun also practices daily on her own.
"Modern times have modern music," said Sister Monica Nobl, a 40-year-old vocalist. "Pop-rock music is a kind of music we've heard all our lives. We grew up with that kind of music, so it's also just natural to use it."
Sister Andrea Garcia, 47, said,"We think this music, or this genre, resonates with young people today. Our goal is that through the melodies, our lyrics will reach people."