Personality: Daryl V. Fraser
Spotlight on president of the Richmond Association of Black Social Workers
9/22/2017, 9:21 p.m.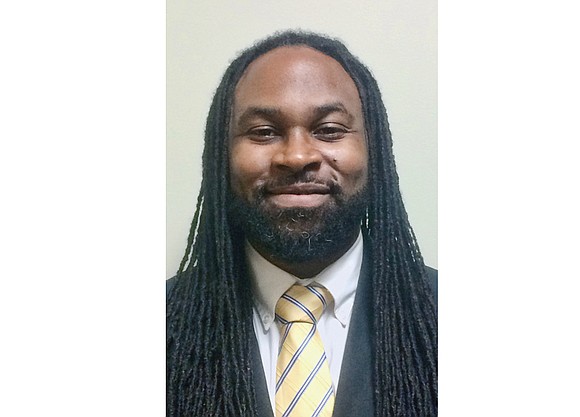 "We value human relationships and try to leverage those relationships to facilitate the process of sustainable change and well-being on the individual, family and community levels," he says.
To that end, the RABSW's goal is to "identify the needs in Richmond, and then to work with like-minded individuals on issues of equity," he notes.
Meet this week's volunteer, advocate and Personality, Daryl V. Fraser:
Volunteer involvement: President, Richmond Chapter of the National Association of Black Social Workers.
Date and place of birth: Sept. 17 in Brooklyn, N.Y.
Current residence: Chesterfield County.
Occupation: Assistant professor in teaching, Virginia Commonwealth University School of Social Work.
What I do: I am a licensed clinical social worker by profession and I have worked in the areas of child welfare, mental health and HIV/AIDS during the past 18 years. I am currently on faculty at the VCU School of Social Work teaching field education in the master's of social work and bachelor's of social work programs.
Alma mater: Bachelor's of science in psychology in 2000 and master's of social work, 2007, both from Virginia Commonwealth University. 
Family: I am happily married to my wife, April, for the past 10 years. We have four amazing children, ages 6, 8, 11 and 18.
When RABSW was founded: The Richmond Association of Black Social Workers was founded in 1971. Our founding members are Dr. Norma Goode, Hilda Warden, Willie Dell, James "Jim" Ryan, Thomas "Tom" Baynham, Ed Brown, Oliver Epps, Elmer Seay and Clinton Strane.
Organization's mission: The National Association of Black Social Workers, comprised of people of African ancestry, is committed to enhancing the quality of life and empowering people of African ancestry through advocacy, human services delivery and research. The NABSW will work to create a world in which people of African ancestry will live free from racial domination, economic exploitation and cultural oppression. In collaboration with national, international and other appropriate groups, the NABSW will continue to leverage its collective expertise to strategically develop the capacity of people of African ancestry to sustain and flourish. The NABSW's vision is guided by the principles of the Nguzo Saba, which are unity, self-determination, collective work and responsibility, cooperative economics, purpose, creativity and faith, and the seven cardinal virtues of Ma'at, which are right, truth, justice, order, reciprocity, balance and harmony. 
Why I am excited about this organization: I have been a member of the association since 2002 when I started graduate school. The RABSW has significantly contributed to my identity as a social work professional and I am most excited about bringing in new members to share in all that the RABSW has to offer.
No. 1 objective as president: To increase our capacity and visibility in the Richmond area and surrounding counties so that the expertise of our organization is leveraged at the local, state and national levels.
When I knew social work was for me: I like to think that social work is not a profession that you choose, but it's a profession that chooses you. I knew that I was in the right field when I started my first job in the human services field 17 years ago working with children. My ability to relate to, understand and connect with children I was working with came very naturally and was very rewarding. It's a feeling that you just can't put into words.