Jackie Robinson Day
Flying Squirrels to observe it April 15 at The Diamond
4/13/2018, 9:46 a.m.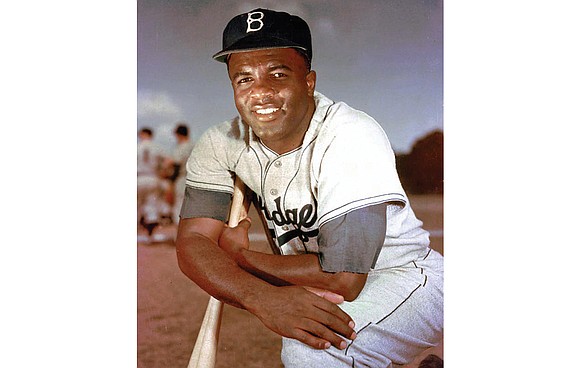 Every April 15, the immense historical significance of Jackie Robinson is celebrated at professional baseball stadiums across America.
Robinson (1919-1972) is most famous for successfully breaking baseball's racist color line on April 15, 1947, with the Brooklyn Dodgers.
Locally, the Richmond Flying Squirrels will salute the baseball icon during Jackie Robinson Day 1 p.m. Sunday, April 15, at The Diamond when the team plays the Reading, Pa., Fightin Phils.
The first 1,000 fans ages 14 and under will receive "Dodgers blue" full-sized bats. The giveaway is sponsored by Pepsi. During the game, the scoreboard message board will show "Jackie Robinson Facts" for the fans. And after the game, youngsters in the Kids' Club — free with signup for those ages 14 and under — can run the bases in Robinson's memory.
At Major League Baseball stadiums on April 15, players will wear No. 42 — Robinson's jersey number with Brooklyn. The number has been retired throughout baseball except on April 15.
April 15 has been observed at Jackie Robinson Day by MLB since 2005.
Several factors contributed to MLB and the Brooklyn Dodgers, in particular, integrating the sport after more than a half century of all-white competition. Among them:
World War II (1939-1945): Black and white Americans fought shoulder to shoulder in European and Pacific battles. There is perhaps no greater bond among men than to survive a foxhole together, having risked their lives for a common cause.
Legislation: In March 1945, New York Gov. Thomas Dewey signed the Quinn-Ives Act that banned discrimination in hiring and established a committee to investigate complaints.
Also in 1945, New York City Mayor Fiorello La Guardia created the Mayor's Committee to Integrate Baseball. Branch Rickey, the Brooklyn Dodgers' general manager, was appointed to the committee.
Power of the press: Columnists, especially at black-owned publications, were relentless in attacking baseball's "gentleman's agreement" to ban black players.
Two prominent adversaries of the bigotry were Wendell Smith of the Pittsburgh Courier (prominent in the movie about Jackie Robinson, "42") and Sam Lacy of the Baltimore Afro-American newspapers.
The NFL: Actually pro football beat baseball to integrating. In the fall of 1946, the Los Angeles Rams introduced two African-American players, Kenny Washington and Woody Strode, while the Cleveland Browns signed Marion Motley and Bill Willis.
Baseball, however, was by far the nation's more popular sport at the time. The landscape became so much brighter on Oct. 23, 1945, when Rickey signed Robinson to a Brooklyn contract.
After spending the 1946 seasons with the Dodgers' AAA farm club in Montreal, Canada, Robinson broke in with the Dodgers in 1947 as a 28-year-old rookie. The ultimate trailblazer, he went on to a Hall of Fame career.