Jackie Robinson Day commemorated by MLB on Aug. 28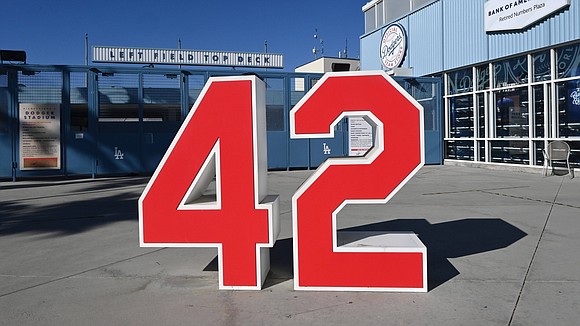 In this unprecedented year of sports, April 15 — better known in Major League Baseball as Jackie Robinson Day — became Aug. 28.
Baseball was in a holding pattern this year on April 15 because of the global pandemic.
Instead, the groundbreaking Mr. Robinson was honored Aug 28 at MLB ballparks across the country.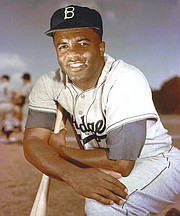 Aug. 28 was chosen as the replacement date for two reasons.
It was Aug. 28, 1963, that Jackie Robinson — who broke baseball's color line on April 15, 1947 — participated in the March on Washington.
Also, it was Aug. 28, 1945, that Robinson signed a contract with Brooklyn Dodgers owner Branch Rickey. Robinson played the 1946 season with the Dodgers' Montreal farm club before joining the parent squad on April 15, 1947.
In 10 big league seasons, Robinson hit .311 with 197 stolen bases. In 1955, he helped Brooklyn to a World Series title. He was a six-time All-Star and the 1949 National League MVP.
A daring base runner, Robinson stole home 19 times. That's not counting his famous steal of home in Game 1 of the 1955 World Series.
As part of the annual Jackie Robinson Day celebration, all players and coaches wear Robinson's now retired No.42 jersey. New York Yankees relief pitcher Mariano Rivera was the last big leaguer to wear No. 42 in 2013.
Also on Aug. 28, Robinson's iconic No. 42 was mowed into the outfield grass and behind home plates at baseball stadiums across the country. It was also displayed on the back of pitcher's mounds.
Baseball is being played this season with no fans in the stands, but with full radio and television coverage.
The Aug. 28 celebration came during the same week in which several Major League games were postponed to protest racial injustice following the Aug. 23 police shooting and critical wounding of Jacob Blake in Kenosha, Wis.
The Los Angeles Dodgers game in San Francisco against the Giants on Aug. 26 was among the contests postponed. The Brooklyn Dodgers, for whom Robinson earned Hall of Fame status, moved to Los Angeles in 1958, two years after Robinson retired.
The Dodgers played the Texas Rangers in Arlington, Texas, on Jackie Robinson Day.
As a sign of the times, the Dodgers have just one African-American player this season — All-Star right fielder Mookie Betts. That's one less Black player than the Dodgers had in 1947 when, first Robinson, and later pitcher Dan Bankhead suited up for Brooklyn.
Los Angeles Pitcher David Price, who is African-American, decided to sit out this season because of COVID-19 and health concerns for himself and his family.
In the saddest of coincidences, actor Chadwick Boseman, who played Robinson in the 2013 film "42," died on Aug. 28, Jackie Robinson Day, in Los Angeles. Mr. Boseman was 43 and had fought a private four-year battle with colon cancer.
Among his numerous starring roles, Mr. Boseman played James Brown in "Get on Up," Thurgood Marshall in "Marshall" and King T'Challa in "Black Panther."