L.A. Dodgers unveil statue to celebrate Jackie Robinson Day
4/21/2017, 6:47 a.m.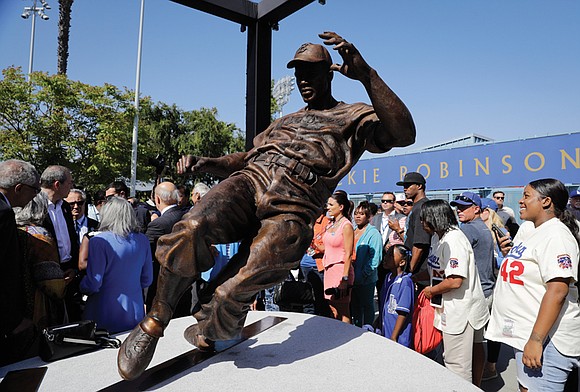 Jackie Robinson is known for heroically breaking baseball's color barrier on April 15, 1947, as a 28-year-old rookie with the Brooklyn Dodgers.
But on the field, he was known for another kind of heroic play — stealing home.
It is apropos that African-American sculptor Branly Cadet chose "stealing home" as the theme for the 800-pound bronze statue of Robinson he was commissioned to create.
The statue was unveiled at the main entrance to Dodger Stadium in Los Angeles last Saturday on the 70th anniversary of Robinson's entry into Major League Baseball. The day is celebrated annually by MLB as Jackie Robinson Day, on which every player on every team wears Robinson's jersey No. 42.
Although Robinson retired before the Dodgers moved to Los Angeles in 1958, he is the first athlete to receive a statue at the ballpark. Others are in the works.
"Stealing home takes skill and it takes daring," said Cadet.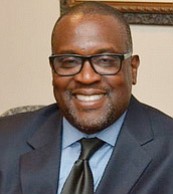 A high-risk, straight steal of home is virtually a lost art because, in part, of the inevitable collision with the catcher and the fear the batter may miss the sign and swing as the runner is nearing the plate. It is generally considered an injury waiting to happen.
The fearless Robinson stole home 19 times during regular season games and once, famously, in the 1955 World Series, helping the Dodgers to clinch their only championship.
Among those attending the Los Angeles ceremony were Robinson's 94-year-old widow, Rachel; his son, David, and daughter Sharon; Frank Robinson, a former player who later became MLB's first African-American manager; and longtime Dodgers announcer Vin Scully, who began calling Dodgers games in the early 1950s.
"Some men are taller than others. Some are heavier. Some are left-handed. Some right-handed," said Scully.
"But the one thing they share in carrying No. 42 is the fact that the man who wore it gave them what no other man could at the time. He gave them equality. And he gave them opportunity."
The Dodgers went on to win Saturday's game against the Arizona Diamondbacks 8-4, with Cuban Yasiel Puig driving in four runs with a single and a three-run homer into the left-field seats.
"No way we're losing on Jackie Robinson Day," said Los Angeles manager Dave Roberts, one of two African-American managers in baseball today.
The other African-American manager is Washington's Dusty Baker, a former Dodgers All-Star and player for the former Richmond Braves.
"Every day to me is Jackie Robinson Day," said Baker. "If it weren't for him, I wouldn't have played Major League Baseball and I wouldn't have the job I have now."
As an individual show of respect, Baker wears No. 42 wristbands during every game.
Baker, like all former and current players of color, are honored to be compared to Robinson in every way — every way but one, that is.
They'll leave stealing home to No. 42.