Memorial to nation's lynching victims opens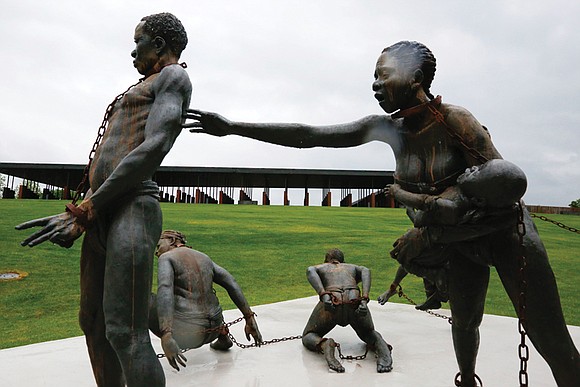 Free Press wire report
MONTGOMERY, Ala.
Elmore Bolling defied the odds against black men and built several successful businesses during the harsh era of Jim Crow segregation in the South. He had more money than a lot of white people, which his descendants believe was all it took to get him lynched in 1947.
He was shot to death by a white neighbor, according to news accounts at the time, and the shooter was never prosecuted.
But Mr. Bolling's name is now listed among thousands on a new memorial for victims of hate-inspired lynchings that terrorized generations of African-Americans. Daughter Josephine Bolling McCall is anxious to see the monument, located about 20 miles from where her father was killed in rural Lowndes County.
The National Memorial for Peace and Justice, opening Thursday, April 26, is a project of the nonprofit Equal Justice Initiative, a legal advocacy group in Montgomery. The organization says the combined museum and memorial will be the nation's first site to document racial inequality in America from slavery through Jim Crow to the issues of today.

"In the American South, we don't talk about slavery. We don't have monuments and memorials that confront the legacy of lynching. We haven't really confronted the difficulties of segregation. And because of that, I think we are still burdened by that history," said Bryan Stevenson, executive director of the Equal Justice Initiative.
The site includes a memorial to the victims of 4,400 "terror lynchings" of African-Americans in 800 U.S. counties from 1877 through 1950. All but about 300 were in the South, and prosecutions were rare in any of the cases. Mr. Stevenson said they emphasized the lynching era because he believes it's an aspect of the nation's racial history that's discussed the least.
"Most people in this country can't name a single African-American who was lynched between 1877 and 1950 even though thousands of African-Americans were subjected to this violence," Mr. Stevenson said.
The organization said a common theme ran through the slayings, which it differentiates from extrajudicial killings in places that simply lacked courts: A desire to impose fear on minorities and maintain strict white control. Some lynchings drew huge crowds and were even photographed, yet authorities routinely ruled they were committed by "persons unknown."
Mrs. McCall, 75, said her father's killing still hangs over her family. The memorial could help heal individual families and the nation by acknowledging the painful legacy of racial murders, she said.
"It's important that the people to whom the injustices have been given are actually being recognized and at least some measure — some measure — of relief is sought through discussion," Mrs. McCall said.
Combined, the memorial and an accompanying museum a few miles away at the Equal Justice Initiative headquarters tell a story spanning slavery, racial segregation, violence and today's era of swollen prison populations. With nearly 7 million people behind bars or on parole or probation nationwide — a disproportionate number of them minorities — the NAACP says black people are incarcerated at a rate five times that of white people.