Two NSU players with area ties make preseason All-MEAC team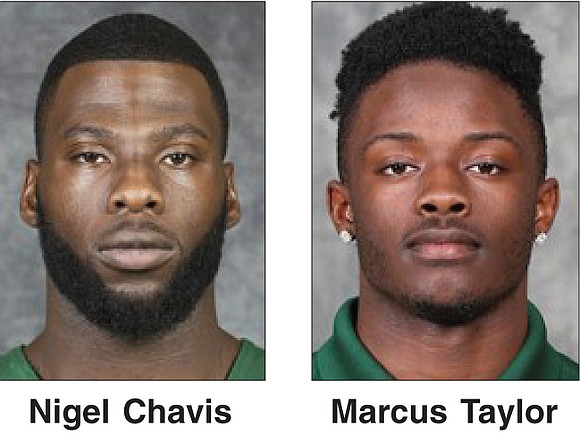 Norfolk State University football will have a strong Richmond influence this fall.
Two NSU athletes with area ties have made the preseason All-MEAC team.
Nigel Chavis and Marcus Taylor were named to the squad by a vote of coaches and sports publicists at Conference Media Day last Friday in Norfolk.
Chavis is a 6-foot-2, 230-pound junior linebacker from Richmond's Armstrong High School. Last season, Chavis was in on 82 tackles, including 8.5 for losses.
Taylor, a 5-foot-8, 160-pound senior who went to Henrico County's Highland Springs High School, caught 60 passes for 629 yards and five touchdowns last year, while also accumulating a conference best 1,392 yards total offense.
Taylor made the preseason team as a kick returner.
Also, NSU's returning quarterback is Juwan Carter. The former Highland Springs High star passed for 1,827 yards and 13 touchdowns last season as a freshman.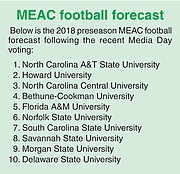 In what will be the team's fourth season under Coach Latrell Scott, the Spartans are picked to finish sixth in the 10-team league.
NSU is 12-21 overall and 11-13 in MEAC in Coach Scott's first three seasons. Coach Scott's associate head coach is former Virginia State University head coach Andrew Faison.
NSU opens 6 p.m. Saturday, Sept. 1, against VSU in the Labor Day Classic at Dick Price Stadium in Norfolk.
Defending champion North Carolina A&T State University was a unanimous selection to clinch the MEAC championship again this season. The Aggies received all 19 first place votes.
The MEAC champion advances to face the champion of the Southwestern Athletic Conference, or SWAC, in the Celebration Bowl on Dec. 15 in Atlanta.