NSU to wrangle the Howard Bisons Nov. 10 at Dick Price Stadium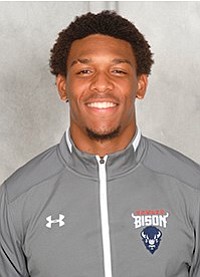 Norfolk State University has lost four straight football games and more trouble is on the way.
The Spartans' next assignment will be to tangle with MEAC's leading passer, Howard University's Caylin Newton, brother of NFL star Cam Newton.
Under third-year Coach Latrell Scott, NSU will play host to the HU Bison under Coach Mike London at 1 p.m. Saturday, Nov. 10, at Dick Price Stadium in Norfolk.
Newton, a sophomore from Atlanta, is No. 1 in MEAC in passing yardage (264 yards per game) and total offense (317 yards per game).
Newton was a major recruiting plumb for London, who previously coached at the University of Richmond and the University of Virginia.
As a senior at Atlanta's Grady High School in 2016, Newton passed for 3,322 yards and 33 touchdowns, and ran for 1,036 yards and 13 touchdowns.
Newton doesn't have his older brother's size. Cam Newton, the Heisman Trophy winner at Auburn University in 2010 and the NFL's MVP for the Carolina Panthers in 2015, is 6-foot-5 and 250 pounds.
Caylin is listed at 6-foot and 195 pounds.
Last week, Caylin Newton led Howard to a 31-23 victory over MEAC leader Florida A&M University. Meanwhile, NSU lost 37-20 to North Carolina A&T State University during a game in Greensboro, N.C.
NSU quarterback Juwan Carter is third in the MEAC in passing yardage. Carter's top battery-mate, Marcus Taylor, has 35 receptions for 342 yards and leads the conference in kickoff returns.
Both Carter and Taylor hail from Highland Springs High School in Henrico County.
Last year, Howard defeated NSU 28-24 in Washington as Newton, then a freshman, threw for 159 yards and ran for another 46 yards and a touchdown.