NSU Spartans trample the HU Bison 29-17
Fred Jeter | 11/15/2018, 6 a.m.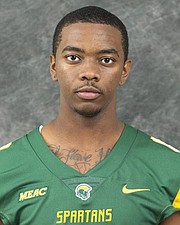 Norfolk State University's Juwan Carter won the "battle of the quarterbacks" and, more importantly, NSU came out victorious last Saturday as the Spartans beat the Howard University Bison before a crowd of more than 6,000 at Dick Price Stadium in Norfolk.
Carter, a NSU sophomore from Highland Springs High School in Henrico County, outperformed Howard quarterback Caylin Newton, with NSU winning 29-17.
The victory ended a four-game NSU losing streak and elevated Coach Latrell Scott's Spartans to 4-5 overall and 2-4 in MEAC.
Howard falls to 4-5 overall and 4-3 in MEAC under Coach Mike London.
Carter passed for 256 yards and three touchdowns. Newton, the MEAC leader in passing and total offense, was just 10 for 24 for 129 yards. The brother of NFL star Cam Newton threw two interceptions and was sacked twice.
An NSU defensive titan was Nigel Chavis from Richmond's Armstrong High School. Chavis had nine tackles, including 2.5 for losses with a sack. Chavis forced a fumble and hurried Newton into three incompletions.
NSU will host Morgan State University at 1 p.m. Saturday, Nov. 17, and then close its season Saturday, Dec. 1, at Liberty University in Lynchburg.